Ocracoke Scotch bonnet breaks state record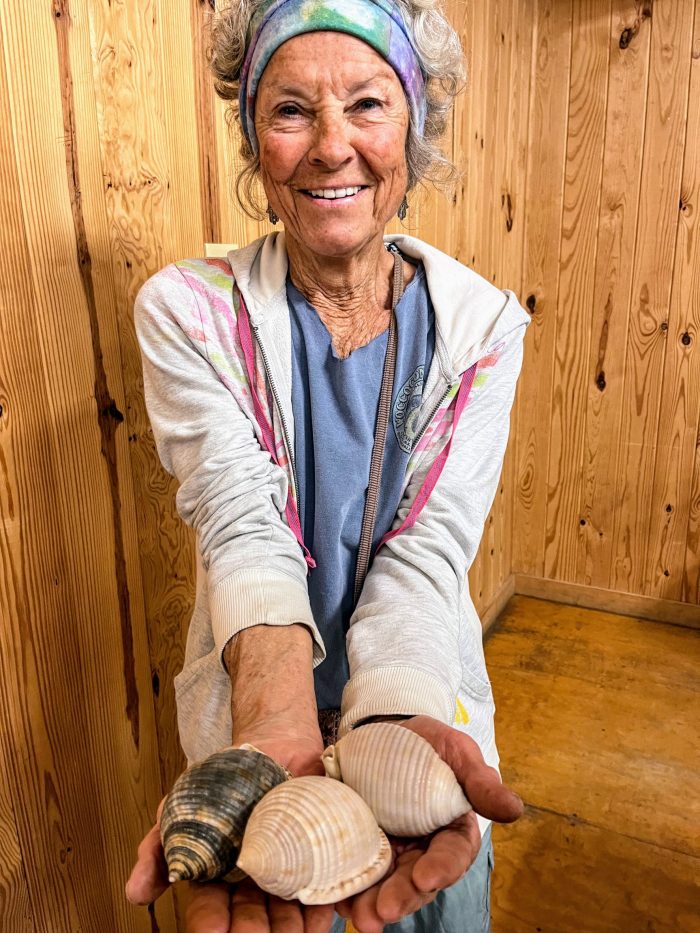 A Scotch bonnet found by an Ocracoke resident broke the state record Friday night during the North Carolina Shell Club's spring meeting on Ocracoke.
Islander Felicity Gage is an avid beach walker and brought three large Scotch bonnets to the meeting for official measurement.
One of hers measured 91.35 millimeters, which beat the previous record of 91.3 millimeters of a shell found years ago on Bear Island Hammocks Beach State Park by Benjamin Wunderly and which was confirmed by Shell Club officials at their May 2022 meeting in Morehead City.
Gage also found her shell "years ago" somewhere between the Lifeguard Beach and Ramp 68, she said.
Before that, N. C. Shell Club member Tammy Zetka had found the largest Scotch Bonnet during the club's trip to Portsmouth Island in March 2022.
Zetka's shell measured 87 millimeters long, surpassing the previous state record of 86.4 millimeters.
Mark Johnson, president of the N.C. Shell Club, who confirmed Gage's shell, said it doesn't matter when the shells are collected or whether the shells are alive or dead.
But he said shell size listings (available on the Shell Club's website) constitute a fluid document as new records continue to be made.
"This is a scientific document of the shells to determine how big these species can get," he said. "Although these size records are big, it's unlikely that these are the largest to be found. My expectation is that more specimens will come to light."
Proposed by the North Carolina Shell Club, the Scotch bonnet was selected as the official state shell in 1965.
While these maritime snails prefer warm tropical and subtropical waters, their range is from North Carolina to Brazil, with the offshore Gulf Stream accounting for its northernmost appearance.
According to Cyndi Brown of the N.C. Maritime Museum in Beaufort, the Scotch bonnet (also pronounced "bonay") was first described in 1778 by the Austrian naturalist Ignaz von Born. His Latin description, translated to English by Google, reads: "Shell ovate, transversely, obsoletely furrowed, serially spotted with yellow tissue, granulated lip, recurved tail."