A rare coin collection that is currently housed behind-the-scenes at the Graveyard of the Atlantic Museum made waves this week in newspapers around the country, but funds are needed to transition the coins into a permanent, public exhibit, per Joseph Schwarzer, director of the North Carolina Maritime Museum System.
"Eventually, if we get funding, we plan to have [them] in our permanent exhibit plan," said Schwarzer.
Per a January 4 article in The Virginia Pilot, the 55 coins stemmed from a collection that was donated by the late William Sell and his wife, Catherine, of Pennsylvania. Spanning from 221 B.C. to the mid-20th century, the coins were acquired through decades of beachcombing along Hatteras Island.
"He turned [the collection] into us in 2006," said Schwarzer. "He contacted us and said that he had been shore fishing on the Outer Banks since the 1930s, and while he was at the beach and walking behind the dunes, he found some things that he thought really belonged on Hatteras Island."
As Schwarzer recalls, Mr. Sell told the museum director that he had gone fishing off of Hatteras and Ocracoke islands with his friends since the 1930s, and when they weren't fishing, his buddies would drink and play cards. "He told me, 'Well, I don't drink and I don't play cards, so I would walk around the dunes and pick up things that looked interesting instead,'" said Schwarzer.
What Mr. Sell found along the island beaches was nothing short of astounding, and a testament to the Outer Banks' lengthy history of shipwrecks and unusual items washing ashore.
Stand-out pieces in the collection include a rare American 20-cent coin, which was only briefly produced in the 1870s, and a bronze drachm from the time of Ptolemy IV Philopator, with an estimated date of 221 to 203 B.C.
Mr. Sell even added to the museum's collection himself, sending several more unique pieces to Schwarzer a couple of years later. "He said 'I found these in my tackle box, and thought you might want to add them to the others,'" recalled Schwarzer.
The value of the coins themselves is somewhat hard to determine.
After decades or even centuries in saltwater, coins have a tendency to turn black, and while Mr. Sell did his best to clean the coins as he found them to determine what they were, it's still evident that the pieces have gone through a lot of wear or tear during their time in the Graveyard of the Atlantic.
"People always ask about the value of the coins, and I'll say in terms of their value, they are essentially valueless," said Schwarzer. "It's hard for people to understand, but it's because of the condition. For a collector, condition is everything, and the value [of these coins] to a collector is limited."
"We have one coin that is a 20-cent piece, and they were minted for one year. If you find one in a mint state, it's a very valuable coin, but in a worn state, they are worth about five bucks… So it's not a question of the value of the coins themselves, it's the historical value – what they can tell us about what was going on at the time, the questions they raise… That's the fun part of this collection."
When the permanent exhibit is eventually launched, museum visitors will have access to all of these details on each individual coin, and so much more.
"Coins are very hard to display because they are small, and you want to be able to show them off," said Schwarzer. "So they will be displayed individually, with a large magnifying glass that will move over the coin so you'll be able to see all the details."
Each coin will also be assigned a number, and next to the display will be a monitor, which will showcase a larger version of both sides of the coin. There will also be accompanying info about the coin itself, the time period and era, and other historical details that will tie the pieces to the Outer Banks.
The upcoming coin exhibit is just one of many permanent displays that the Graveyard of the Atlantic Museum wants to establish when funding is in place.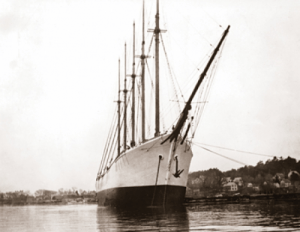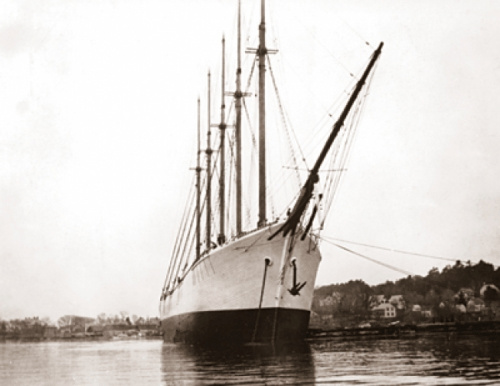 For example, the centennial of the famous wreck of the Carroll A. Deering is quickly approaching, which was a five-masted commercial schooner that ran aground off of Cape Hatteras in 1921, with the crew nowhere to be found. The museum has a host of relics related to the shipwreck that they want to showcase, such as an intricate model of the vessel that was crafted with pieces of the actual wreck itself.
Schwarzer estimates that roughly $4.5 million will be required to make all of the potential exhibits come to fruition, and museum staff and volunteers have been working hard for years to secure these funds from private donors, as well as county, state, and federal channels.
"I'd love for us to be able to see our final exhibit plan [come to life], because we've been designing it in such a way that we will showcase the artifacts, but next to them will be a monitor, where a whole other realm of information will appear," said Schwarzer.  "We're arranging this in such a way that if you want to go all the way down the rabbit hole, you can spend hours learning about an individual shipwreck."
For now, (and despite 2020 closures related to the Coronavirus pandemic), the museum has become a popular destination in its own right for Hatteras Island visitors, and has seen an increase in visitation annually since opening its doors in 2002.
"We average between 80-90 thousand visitors a year," said Schwarzer. "We've been on national television four or five times, and we've been featured internationally as well… We're becoming an economic engine and a tourism engine on Hatteras Island."
And one of the big reasons for the museum's popularity – which includes the recent national headlines about the coin collection – is simply due to the notoriety of Cape Hatteras itself.
"Cape Hatteras is known to mariners around the globe," said Schwarzer. "If you're in a bar at any port in the world and mention Cape Hatteras, someone will say 'I was in a storm out there once, and it was brutal!'"
"Everyone knows Cape Hatteras. It's part of maritime history, and it's part of the stories that we want to be able to tell."
There's no timeline on when funds will be available to debut the now-famous coins to the public, but Schwarzer is hopeful that through continuing fundraising efforts that have been ongoing since the museum opened, a host of new and permanent exhibits will be on the horizon for future visitors.
"The history and the culture of the Outer Banks is unique, and it has relevance not just for the region, but for the nation and the world as well," he said. "Bit by bit, we keep making progress, and in the near future, I'm hopeful we can get these exhibits completed."
For more information about the Graveyard of the Atlantic Museum, and to make a donation, visit their website at https://graveyardoftheatlantic.com/.