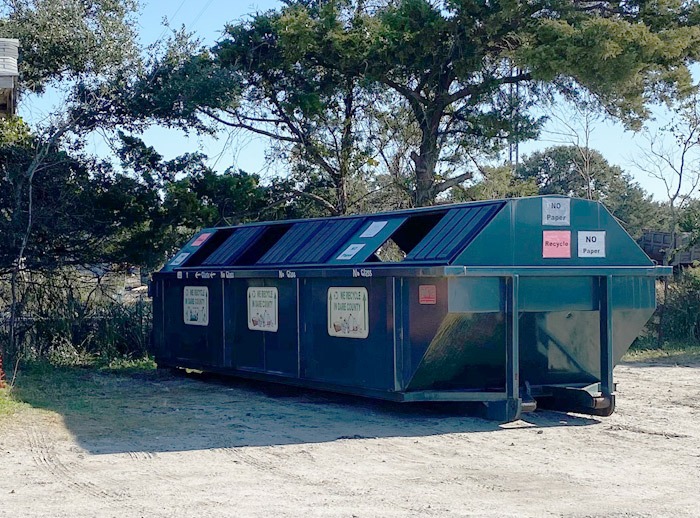 This is part 1 of a multi-part series of articles that explores the intricacies of recycling on Hatteras Island, from the initial drop off at the transfer station in Buxton, to the final transition into new materials.
If you live on the Outer Banks or love visiting, then you probably also appreciate the pristine beaches, the expansive waters of the sounds and ocean, and the fresh salt air that clings to you long after you depart.
That same appreciation of the natural gifts of the area are one of the reasons so many people use the recycling services offered in the northern Outer Banks, as well as on Hatteras Island. For almost 10 years, Hatteras Recycle provided blue bins and would pick up mixed recyclables on a weekly basis for a nominal fee. The service was popular with locals, as it saved us a trip to the recycling center, and guests, who were also used to recycling in their hometowns.
When China abruptly stopped accepting the world's recycled products in 2018, it left companies who collected the materials with few places to turn. Hatteras Recycle attempted to put new sorting rules in place, but in the end, closed down and left Hatteras Island back where it started.
If you have ever visited the Buxton Transfer Station and Recycling Center on the Buxton Back Road, then you know that the flow of waste materials is never ending, but what most people don't realize is how much work goes into maintaining the center.
Bill Zerrian, who works full-time at the weigh station and constantly patrols the grounds, said that despite his best efforts at directing people where to go, "Every day, I stop someone or see something I need to correct."
When entering the gated area, there are large recycling dumpsters straight ahead. There is one on the left and two on the right of a small parking area. Two trash dumpsters are right in front of the parking spots. Bill has signs all over the mixed-recycling dumpsters with at least eight "No Paper" signs on one bin. "If you look inside, you will see paper bags holding the plastic containers. I try to pull out what I can reach," Zerrain explained.
At the end of the "plastic, metal, aluminum" bin is a small section meant only for glass. Glass is handled completely differently from the mixed recyclables, yet it is easy to see the bags of comingled materials there, too.
The big dumpsters on the right side hold paper in one and cardboard in the other. At least three signs are on each stating what should be in the contents. Yet, it's hard to tell from looking what should go in each as they, too, were mingled.
Managing this requires vigilance from Zerrain. "I can't be both places at once," Zerrain said. "If I leave the weigh station to go correct someone at the recycling area, then I see someone at the debris bins throwing materials in the wrong spot."
Aside from the Recycling area, the Transfer Station also offers waste containers for homeowners, contractors, and businesses to drop off larger debris loads.
"There are four dumpsters labeled for the separate items. One and two are brush, which is taken away and converted to mulch," Zerrien said. "Three and four are construction waste, which goes to the landfill."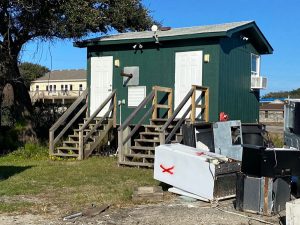 Patience is not something he sees often. "Sometimes, if people don't know what to do, they just throw an item in and walk away. I had a gentleman throw a water heater in the construction debris bin because he wanted to be done." (The metal bin is 30 feet away). "If I can remove something with the tractor, I will, but I can't get the little things out," he said.
What is surprising about this small center is how organized, clean, and convenient it is to use. Much of what we might throw into our household trash can be recycled with just a little effort. In addition to household recycling, there is a bin or location to drop off metal recycling, tires, mattresses, refrigerators and air conditioning units, TVs and electronics, motor oil and car batteries. But it takes some minor effort to navigate.
"I saw someone throw a bicycle into the trash bin. He didn't want to bother taking the tires off the rims so it could go in the metal recycling one bin away," Zerrain explained. "Another (patron) came by and pulled the bike out of the dumpster, cut the tires off with his pocket knife, and threw the two pieces in the proper container. It took probably 30 extra seconds."
Some people worry about the scale area and how much it might cost to dispose of their materials properly. To that, Zerrain says there is little that is actually fee-based. "It is $65 per ton of construction or brush. We weigh you, you dump your [materials], we reweigh you, and that is what you pay…" Everything else is free to drop off.
There are only a few exceptions to what the center can take. "We don't take household garbage, disposable batteries, or paint in cans. Cooking oil and gasoline are also not permitted," he said with a smile. "It is combustible, so I keep a close eye on that area."
Zerrain takes his job very personally and even has a Facebook page @TrashTalk. In a humorous and slightly sarcastic tone, Zerrain posts hours of operation, clarification on what to put in the bins, and some polite corrections of patrons' behavior.
While the station is small, it is well organized, and the employees are very helpful. Still, Zerrain is always looking for volunteers to give an hour or two to help. During the summer, the center is very busy and he works continually to keep things in the proper place.
With all the bad press recycling efforts have received, and revelations of materials still going to the landfills or being burned, many ask what really happens to all this sorted and recycled material, and what happens when loads are corrupted. That is a question for Shanna of the Dare County Public Works, who will clarify recycling on Hatteras Island in the next article, and explain where it all goes.