REMINDER: Take a tour of the new Miss Katie Dredge on Oct. 13 Community Day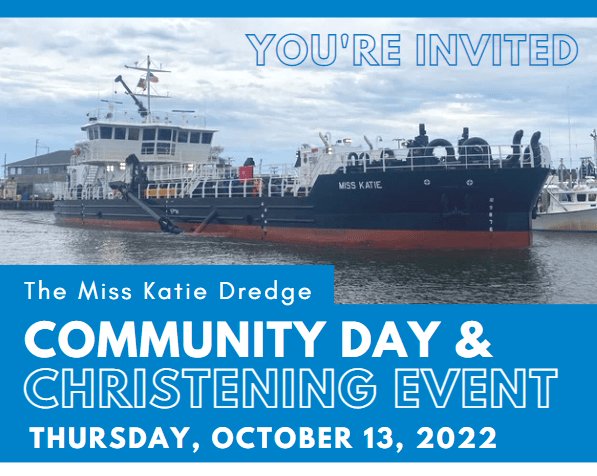 Dare County, in partnership with EJE Dredging Service, will host a christening ceremony and community day in Wanchese on Thursday, October 13, to honor Miss Katie, the new 156-foot-long shallow-draft hopper dredge.
Miss Katie—which is the result of a yearslong collaboration between Dare County officials and EJE Dredging Service, who owns the dredge—departed from Conrad Shipyard in Louisiana on the morning of Saturday, August 13. On the afternoon of Friday, August 19, she officially arrived in Wanchese, which will serve as the dredge's homeport.
Under the direction of the Oregon Inlet Task Force, Miss Katie will be tasked with helping to address the significant shoaling that occurs in various channels and inlets throughout Dare County in an effort to keep these waterways open and navigable for both commercial and recreational vessels.
Community Day – 10 a.m. to 4 p.m.
During the community day portion of the event—which will be held from 10 a.m. to
4 p.m. on Thursday, October 13, 2022—members of the general public are invited to stop by Miss Katie's homeport in Wanchese Harbor (928 Harbor Road in Wanchese) and take a guided tour of the dredge. In addition to offering tours, the community day will also feature music and light refreshments.
Christening Ceremony – 4:30 p.m. 
Following the community day, a christening ceremony will be held at Wanchese Harbor beginning at 4:30 p.m. This ceremony is also open to the general public and will conclude with a bottle of champagne being broken against Miss Katie's bow to bless the vessel with good luck and safe travels.
During the christening ceremony, remarks will be made by several key stakeholders, including Dare County Board of Commissioners Chairman Bob Woodard, Dare County Commissioner and Oregon Inlet Task Force Chairman Jim Tobin, and EJE Dredging Service Vice President Jordan Hennessy, as well as several federal and state government partners and industry representatives.
Additional Information:
Limited parking is available at the event site at Wanchese Harbor, and attendees are encouraged to wear tennis shoes or deck shoes to the event.
For more information about the Miss Katie christening and community day event, please contact Jordan Hennessy at 252-619-3606 or jhennessy@ejedredging.com.