Rock The Cape returns to Hatteras Island for its 10th year on June 2-3
Entering its 10th year, Rock The Cape will span two days of free, family-friendly fun celebrating the visual and performing arts on Hatteras Island on June 2 and June 3.
On Thursday, June 2 there will be a full day of art and live music at Kitty Hawk Kites' Waves Village Watersports Center at Milepost 40 in Rodanthe. The day will start at 12pm with an art show and acoustic musicians on the front lawn, and conclude with a concert on the back deck overlooking the Pamlico Sound.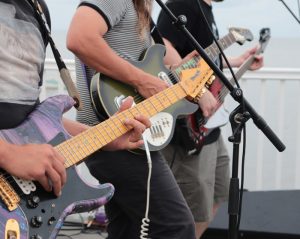 "This is such a fun event—I don't know any other all-day festivals on Hatteras Island like it," said Ben Saltzman, Marketing Director for Kitty Hawk Kites. "We are proud to host Rock the Cape again this year to support DCAC and the Hatteras Island arts and music community."
On Friday, June 3, Rock The Cape will host Friday Arts on the Island, which is a First Friday tour of the galleries on Hatteras Island. A full schedule of participating galleries and their events will be released soon.
"This will be a special day full of fine art and crafts, photography, jewelry, pottery, fiber arts, demonstrations, classes, sales, raffles, music, food and drink, and serious fun at our participating galleries from Rodanthe to Hatteras Village," said Swell Art Gallery owner April Trueblood, who is coordinating Friday Arts on the Island.
Rock The Cape was started in 2012 as an initiative to celebrate the galleries, artists, and artistic community on Hatteras Island. For more information, visit their website at https://www.darearts.org/rockthecape.
This project is sponsored by the Outer Banks Visitors Bureau. Dare County Arts Council is a 501(c)(3) nonprofit arts organization dedicated to encouraging the arts in Dare County through advocacy, enrichment, and opportunity.