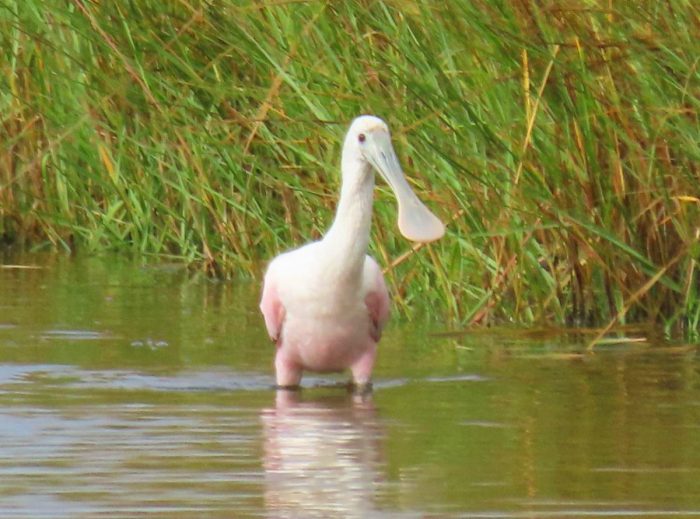 A Roseate Spoonbill was recently spotted by visitors to the Pea Island National Wildlife Refuge, per an update from the Coastal Wildlife Refuge Society.
The Roseate Spoonbill (Platalea ajaja) is not seen along the Outer Banks very often, but when they do pass through the region, they add a beautiful splash of color. They are mostly found in southern Florida, the Caribbean, coastal Mexico, and South America, which makes this feathered Pea Island visitor a rare sighting.
Like flamingos, the Roseate Spoonbill gets their coloring from the aquatic invertebrates and crustaceans that they eat. Of the six worldwide spoonbill species, the Roseate Spoonbill is the only one found in North America, per the Coastal Wildlife Refuge Society.
With the fall season in full swing, and many wintering waterfowl starting to flock to the Outer Banks, it's an ideal time to make a trip to the Pea Island National Wildlife Refuge to see what other surprise visitors may make an appearance.
Expanding for 13 miles on the northern end of Hatteras Island, the refuge is home to more than 365 species of animals on a year-round and/or temporary basis. Of the species within the refuge, 315 are birds, 34 are fish, 32 are reptiles and amphibians, 21 are terrestrial mammals, 8 are marine mammals, and 20 are other aquatic organisms.
How to Visit:
A good starting point to explore the refuge is the Pea Island National Wildlife Refuge Visitors Center, which connects with the North Pond Wildlife Trail, immediately behind the parking area.
Wildlife trails within the refuge are open year-round during daylight hours, and are fully disabled-accessible. Neither pets nor bicycles are allowed on walking trails, and more information can be found at https://www.fws.gov/refuge/pea_island/visit/visitor_activities/wildlife_trails.html.
For more information on happenings within the Pea Island National Wildlife Refuge and beyond, visit https://www.facebook.com/USFWS.NC.