There was ample reason to celebrate on Saturday morning, October 22, as roughly 30 descendants gathered at the Salvo Community Cemetery to honor a revitalized site where local loved ones are now properly respected, honored, and remembered for many years to come.
The Salvo Community Cemetery has had a long and tumultuous history. Once a tragic waterfront area, where 100-year-old tombs and headstones were crumbling into an eroding shoreline, the cemetery is now a historic attraction in its own right, with a bulkhead, fencing, and informational signs that outline its legacy.
"It has been a journey," said Dawn Taylor, of Hatteras Island's Carved in Stone Cemetery Preservation Services. "Coming here years before – before anything was done – your heart would break. You would watch the Weather Channel, and if a storm was coming from the west, your heart would break again, because you knew there would be more damage to come."
The 150-year-old cemetery, which is bordered on all sides by National Park Service land within the popular Salvo Day Use Area, was devastated by storms and erosion, and particularly over the past 10-15 years.
Originally plotted in 1872, the historic cemetery with gravesites from the 19th and 20th centuries had all but deteriorated by the early 2010s, to the dismay of the descendants of islanders buried there.
By 2016, headstones had broken or washed away, while tombs were regularly becoming exposed as the soundfront area steadily receded from a routine onslaught of high water and waves.
More than one descendent in attendance at Saturday's ceremony actually moved headstones during this timeframe, simply because the stones were disappearing, or were virtually unnoticed by the stream of visitors who headed to the popular beach access on a daily basis.
Tammy Holton Jennings is one of those descendants who helped move – and then returned – treasured headstones that were, at one point, in imminent danger.
"When my grandmother and I came years ago, we took [the headstones] home, because we thought this was never going to be fixed," said Jennings. "My uncle was going to reset them, but he died before he got to it, and then they were lost because he stuck them behind his barn so nobody would mess with them, and he didn't tell anyone where they were."
Her uncle removed several more stones, too, after subsequent hurricanes that caused further damage, including the graves of two young girls, (Lettia C. and Lillian F. Midgett), which were cut in two.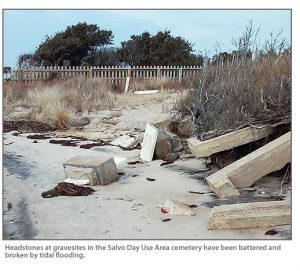 "Once we knew [the restoration] going to happen, we found the headstones and brought them all down to Salvo so they could be reset," said Jennings.
"We were keeping them safe," she added. "In fact, they were really safe, because – for a little while – we didn't even know where they were."
The process to restore the cemetery has been in the works for more than a decade, with small but substantial accomplishments every step of the way.
After a series of hurricanes in the 2010s, including 2011's devastating Hurricane Irene, local residents, family members, and stakeholders started the lengthy process to find a long-term solution for the local landmark.
In 2015 and 2016, a community-wide initiative was launched to prevent further devastation to the cemetery, spearheaded by Jenny Creech, president of the Hatteras Island Genealogical and Preservation Society.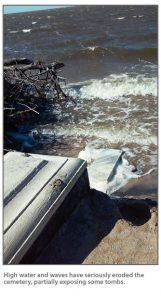 The Rodanthe-Waves-Salvo Civic Association played a big role in the restoration of the site, (and served as the umbrella group to conduct the needed repairs and renovations), and they hosted fundraising campaigns to raise the estimated $120,000 to immediately protect the site from future damage.
This initiative was successful, and the formation of a protective bulkhead and rock barrier along the Salvo Community Cemetery was completed in 2018. Fencing was also bolstered on three sides of the site, to protect it further and to keep it secure.
In September of 2021, an outdoor photo exhibit was added, outlining the area's history and the years-long efforts to bring attention to the historic site.
The 41.5-foot-long and weather-proof mesh banner was the brainchild of Durham-based journalist and photographer, Justin Cook, who worked with local residents and historians to create the panel of photographs, and the ensuing story. An educational panel by the Cape Hatteras National Seashore was added shortly after, in November of 2021, to further mark the site's significance to the general public.
All of this work took years, but it was slowly and steadily done by a small but active group of local residents who were descendants of the interred, and who were inherent stakeholders in the project's success.
Before the restoration, when gravestones and tombs were scattered around the soundside beach at the tide's whim, the site was a veritable puzzle of somewhat-familiar last names and haphazard gravestones.
Robin Daniels Holt, who spearheaded a lot of research about the actual plot of land, was able to connect these dots. She found family members with ties to the cemetery, and helped both journalist Cook as well as the National Park Service craft informational pieces that told the site's story.
While Holt was piecing together the ancestorial puzzle, Dawn Taylor and her partner Dave Padgett were hard at work resetting headstones, cleaning existing sites so that the epitaphs were clean and readable, and maintaining the landscape to respectable standards.
Both Taylor and Holt were encouraged to speak at the ceremony for their Herculean efforts, and both had a joyous and emotional response as they explained the journey, and the significance of the site to all in attendance.
"A lot of blood, sweat, and tears went into this project," said Taylor. "Most of you remember how it was, and it has been a journey, and will continue to be a journey."
Arguably, the years-long project to save the Salvo Community Cemetery is complete. Fenced-in, bulkheaded, and beautifully landscaped, no visitor would mistake the cemetery for a deteriorating part of the shoreline, which is an incredible improvement from 10 years ago
But there is still work to be done. New headstones are continually being discovered a decade after loved ones moved the abandoned stones from the water's edge, and it has been a multi-pronged effort to find these missing pieces and put them back where they belong.
It's a tricky web of work for the folks who have spent years making the Salvo Community Cemetery a historic site. It involves identifying the folks who were originally buried in the cemetery, finding connections with their descendants, and seeing if these storm-ravaged headstones still remain, but were put aside in barns or attics in the years that followed that cemetery's lowest point.
Taylor and Holt have been instrumental in the cemetery's restoration in recent years, but as both attest, the effort takes a literal village.
"I can't take any credit. I just filled in the blanks," said Holt. "So many people have worked hard for this project, every step of the way, which brought us to where we are today."
"This is such a great accumulation, and a great finality. We are here, and we've done this, and we'll keep working to keep our cemetery as it is now," added Holt. "And I hope and pray we never have to face this battle again."