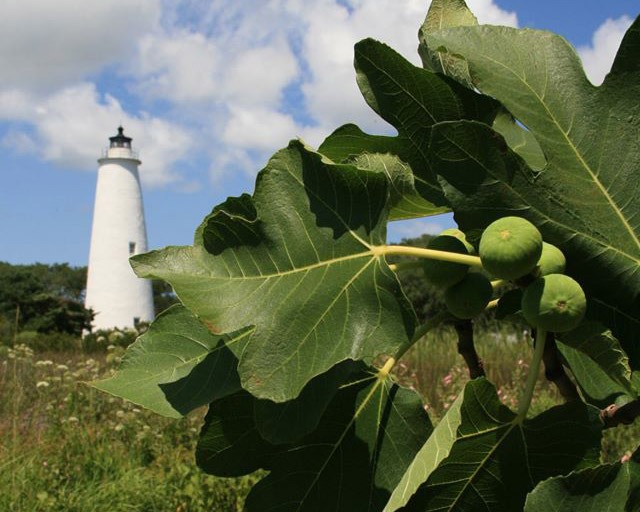 Organizers of the Ocracoke Fig Festival recently announced the schedule of events for the multiple-day event, which is being held on August 5 through August 7, 2021.
The 8th annual Ocracoke Fig Festival will take place at the Berkley Barn and on the grounds of the Ocracoke Preservation Society Museum. The festival, which is sponsored by the Ocracoke Preservation Society, features live music, storytelling, children's activities and crafts, talks by local fig experts, and vendor booths offering fig preserves, fig cakes, fig trees, local cookbooks, and other fig-tastic items.
Mask-wearing will be required and social distancing measures will be in place to mitigate the risks of COVID-19. The complete schedule of events is listed below.
Ocracoke Fig Festival 2021 Schedule
Thursday, August 5th
10 a.m.: Fig Festival tees and merchandise go on sale at OPS Museum Gift Shop
1 p.m.: Ocracoke Figs Porch Talk & Book Signing with Chester Lynn at the Museum Front Yard
6-8 p.m.: Ticketed event: (sold out) "The Savory Side of Figs" dinner with guest of honor Vivian Howard at the Berkley Barn. Includes heavy figgy hors d'oeuvres and fig-infused tea from Ocracoke restaurants and live music with Molasses Creek.
8-10 p.m.: Live music with Aaron Caswell & Greg Howell; beer, wine, soft drinks available for purchase. All are welcome!
Friday, August 6th
3-5 p.m. at OPS Museum: Vivian Howard, award-winning chef, cookbook author, and TV personality, will sign copies of her books, "Deep Run Roots" and "This Will Make It Taste Good." Bring your own well-loved copy or purchase one at Books to Be Red or the OPS Museum Gift Shop. Please be in line by 4:30 p.m. to guarantee you'll get your books signed.
At Berkley Barn:
3-10 p.m.: Cash bar with beer, wine, soft drinks
3-10 p.m.: Live music with local musicians (3-4:30 Kim France, 4:30-6 Brooke & Nick, 6-7:30 Jon Lea, 7:30-9 Coyote)
3-9 p.m.: Vendor booths inside and outside Barn
4-6 p.m.: Fig Preserves Contest – Drop off your entry at OPS Museum before 3 p.m. Anyone can enter Fig Preserves in two categories: Traditional or Innovative (includes combinations with other fruits). Tasting Tickets/Ballots are $3 each; voters choose the winners!
Saturday, August 7th
10-3 p.m.: Bring Fig Cake Bake-Off entries to OPS Museum
10-6 p.m.: Figtastic Vendor Booths inside and outside Barn: Fig cakes, fig preserves, fig art, fig drinks, fig eats, fig everything!
10 a.m.: At Berkley Barn: Q & A with Vivian Howard! All are welcome to come with questions for Chef Vivian. Hosted by Daphne Bennink.
Outside Barn on Berkley porch/grounds:
11 a.m.: Pirate Stories & Songs with Capt. Rob and Fiddlin' Dave
12:30 p.m.: Island Inn/Oddfellows Lodge Park Restoration Project Talk with Chester Lynn and OPS representatives
12:30 p.m.: Figs for Kids! Make your own Fig-Tastic Trail Mix!
11-3 p.m.: Figgy tie-dye for kids
2 p.m.: Ocracoke "Fig Cultivation & Culture" Talk and Book Signing with Chester Lynn
2 p.m.: Kids' Create-A-Craft fig painting
Inside Berkley Barn:
12-1 p.m.: Live music with Brooke & Nick
1-2 p.m.: Live music with Kate McNally
2-3 p.m.: Live music with Molasses Creek
3-10 p.m.: Beer, wine, and soft drinks available for purchase
3:30 p.m.: Fig Cakes go on Display in Barn
4 p.m.: Fig Cake Judging (Vivian Howard & crew will judge the Innovative entries.)
5 p.m.: Awards Ceremony & Serving of Fig Cakes
6–7 p.m.: Live Music with Coyote
9 p.m.: Raffle Drawings
7-10 p.m.: Live music with Raygun Ruby
For more information on the festival, visit www.ocracokepreservation.org. All events are free, except where noted. Parking is available at the NPS lot adjacent to the OPS Museum.