Shake Hatteras Music Festival is coming to Salvo on Monday, August 8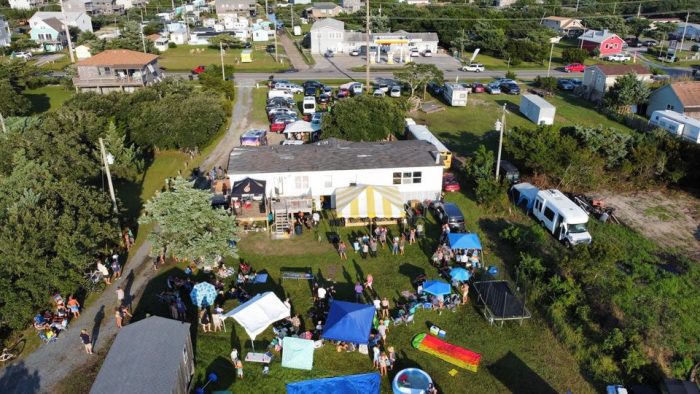 The inaugural Shake Hatteras Music Festival is coming to Salvo on Monday, August 8, with roughly a dozen musicians and bands, more than 25 art vendors, and plenty of entertainment for music fans of all tastes.
The festival, which has been in the works for a few months, is the brainchild of Barry Wells – a longtime resident of the Outer Banks, and a fixture in the local entertainment and music scene.
"We used to do [events] at my old house, and a couple of friends would play, and last year after I bought my Salvo home, I decided it's time, post-Covid, to actually make it a festival," said Wells. "We came up with the name 'Shake Hatteras' because we all need a little shaking up around here."
Through several decades of musical connections and friendships, Wells put together an impressive lineup for Monday's event, with well-known local musicians like Mary Joy McDaniel, After School Surf Club, and The Hound Dogs, and Outer Banks newcomers from as far away as Chapel Hill and Asheville, N.C.
"Our music community is a tight-knit community. It's really like a family," said Wells. "This is kind of a cumulation of networking and playing music and being a musician over many years."
There is no fee to attend, and the venue will be wide-open from the roughly 1:00 p.m. kick-off until Monday night. However, donations will be accepted, and there will also be a 50/50 raffle, to help pay the musicians who are traveling from miles away to make their Salvo debut.
"Everything goes up in price except for the cost of an acoustic musician," said Wells, "and it's been that way since the 1970s."
The festival will be held at "Tina's Tavern," which is an inside-joke moniker for Wells' Salvo home, located at 27306 N.C. Highway 12. The expansive and casual outdoor venue should have plenty of elbow room for anyone who wants to stop by during the afternoon or evening, enjoy a little music, and have a fun time off the beach.
Wells held a similar event last year, which attracted roughly 300 people, and hopes are high that the first-ever Shake Hatteras Music Festival will draw similar crowds, and similar acclaim.
"We'll just see what happens – if you build it, they will come," said Wells. "We're just looking forward to bringing everybody together for a good time, with an old-school Woodstock vibe. Since Covid, everyone has been [minding] their Ps and Qs. It's time to shake it up."
For more information, visit the Shake Hatteras Music Festival's Facebook page at at https://www.facebook.com/events/2501261573341799/.