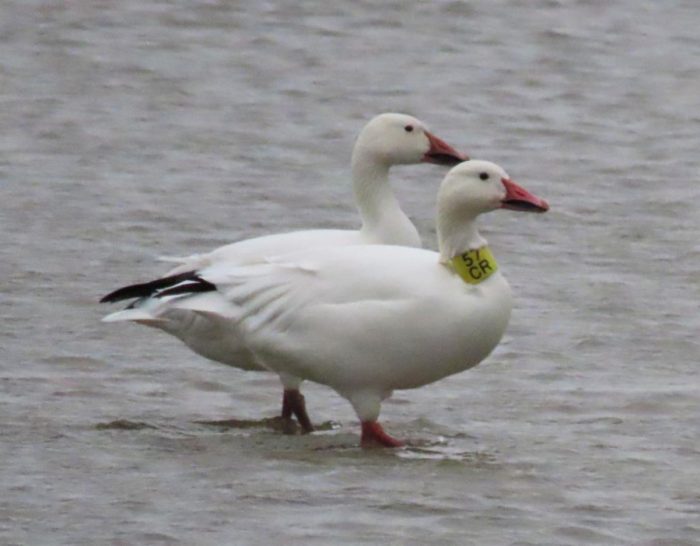 Snow Geese recently arrived at the Pea Island National Wildlife Refuge as part of the annual migratory season, per a recent update from the Coastal Wildlife Refuge Society.
Using tag information, one of the visiting snow geese in the photo above was traced via the United States Geological Survey banded bird laboratory website to Quebec, Canada, in 2019.
Eastern North Carolina is one of the biggest overwintering grounds in the country for snow geese, and these winter residents occur in large numbers along the Pea Island National Wildlife Refuge, as well as other northern tidewater areas.
The snow geese usually start to arrive in Eastern N.C. in the late fall, and tend to stick around until the end of March. In addition to the Pea Island National Wildlife Refuge, snow geese can also be spotted at the inland Mattamuskeet National Wildlife Refuge, which can host more than 5,000 visiting snow geese every year.
Besides snow geese, visitors to Pea Island can also expect to catch thousands of other feathered wintertime residents at the refuge this time of year, including tundra swans, ducks, ibis, egrets, herons, and even white pelicans.
How to Visit:
A good starting point to explore the refuge is the Pea Island National Wildlife Refuge Visitors Center, which connects with the North Pond Wildlife Trail, immediately behind the parking area.
Wildlife trails within the refuge are open year-round during daylight hours, and are fully disabled-accessible. Neither pets nor bicycles are allowed on walking trails, and more information can be found at https://www.fws.gov/refuge/pea_island/visit/visitor_activities/wildlife_trails.html.
For more information on happenings within the Pea Island National Wildlife Refuge and beyond, visit https://www.facebook.com/USFWS.NC.