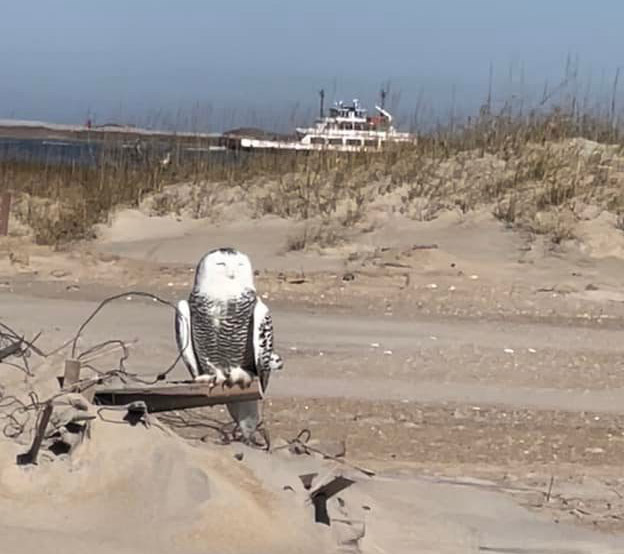 A snowy owl was recently spotted along the beaches of southern Hatteras Island, making an unusual appearance in Frisco and Hatteras, to the delight of surprised beachgoers.
Snowy owls are a rare sight on the Outer Banks, but the colder, off-season months present the best opportunity to spot these infrequent coastal visitors.
Snowy owls generally live in the far north near the North Pole, and winter in southern Canada and the northern United States. Every few years, however, they travel south well outside their normal range in a phenomenon called "irruption." For reasons not completely understood, (but potentially related to food supply), snowy owls have been irrupting more often in recent years, and a few have spent several winters on Ocracoke and Hatteras Islands. In 2021, a snowy owl made headlines throughout late December and January, as it was spotted on Pea Island, in Hatteras Village, and on Ocracoke Island over the course of several weeks.
Per the Carolina Bird Club, Snowy Owls are seldom seen on subsequent days in the same location, as the birds always seem to be on the move. The species is normally found around dunes or coastal grasslands, and can be quite conspicuous as they sit on dunes, posts, or buildings during daylight hours.
Folks who are lucky enough to catch a sighting are encouraged to enjoy the show, but to keep their distance, as human encounters can be stressful for the animal.