State Prioritizes Resiliency, Mitigation in 2019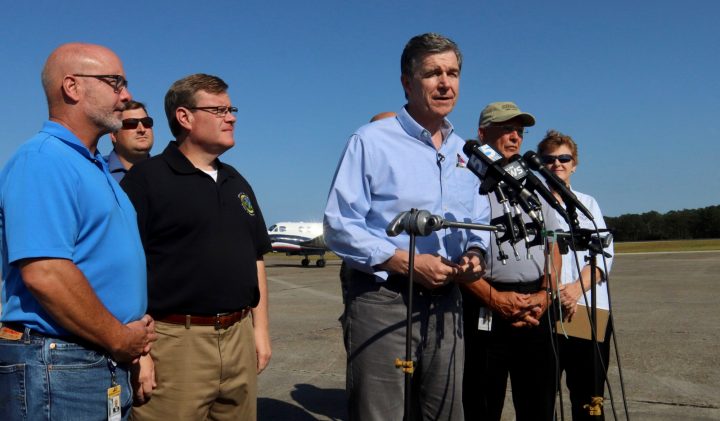 On the first Saturday afternoon in September, crews were cutting their way through broken pines and restringing the electric lines leading to Dare County Regional Airport on the northern end of Roanoke Island.
Doors and windows were wide open at the small aviation terminal to draw in some kind of breeze while a handful of local officials and reporters waited in the heat for the return of both electricity and the governor, who had landed on Ocracoke Island a few hours prior to assess the damage caused by Hurricane Dorian that hit Sept. 6.
Rep. Bobby Hanig, R-Currituck, who had been inspecting repairs to the power grid earlier in the day, said as more information gets out from Ocracoke, the assessments just seemed to get worse. Asked about the contrast of what happened in his district and assessments that the state had somehow dodged a bullet, Hanig paused for a moment.
"This is how I try to explain it," he said. "I say 'everybody gets their turn'."
Dorian was no Florence or Matthew, he said, but try telling that to the thousands of people in his district who lost it all.
Although a minor storm in terms of total damage, in context Dorian was another devastating event for a region that is still reeling physically, financially and emotionally from storms that changed not just lives and landscape in eastern North Carolina, but the way we think about and plan for storms to come.
Dorian underlined the risk that North Carolina faces from a changing climate that produces more frequent, wet and powerful storms at a time when the state was still grappling with the real world consequences of that risk.
For most of the spring and summer, Gov. Roy Cooper and legislators debated the extent of funding for transportation and water and sewer resiliency, as well as how best to prevent or mitigate damage from future floods.
The state's capacity and competence in distributing a massive flow of federal recovery funds also was hotly debated while a new state agency, the Office of Recovery and Resiliency, took shape to oversee not just the distribution of aid, but to develop a new strategy that went beyond the storm-by-storm approach of the past.
In that way, the floods from the prior fall set the stage for much of what shaped 2019. The mounting toll from Hurricane Florence in September 2018 and the lingering effects from the fall of 2016's Hurricane Matthew continued to pull down local economies throughout eastern North Carolina and challenged state, local and federal recovery officials to retool their approach to hurricane recovery.
The 2018 election also had a big effect on what happened this year. The vote reset the power balance in Raleigh and led to what would become a yearlong stalemate on where to focus policy and resources.
Both dynamics carry forward into the New Year, as does the worry that the state's highly polarized partisan atmosphere will only get worse as the election year heats up.
The longest long session in modern legislative history is set to resume Jan. 14. Although the fiscal year ended June 30, the state is still without a full budget, funded instead by a continuation of spending at last year's levels and a series of mini-budgets aimed at specific areas.
Still unsettled are a wide array of environmental policies and still without appropriations are several environmental initiatives and dozens of proposed infrastructure repairs and upgrades for small towns throughout the state.
Legislative leaders haven't laid out plans for what will happen when they return or even if it will even be the last time the General Assembly convenes before the regular "short session" starts in May.
If the pattern established this year continues, then add another milestone for 2019: the year we switched to a year-round legislature.
Here's what else happened in 2019:
January
A new General Assembly was sworn in. The highly competitive and active 2018 cycle resulted in enough new seats for Democrats that although still in the majority, GOP leaders no longer hold supermajorities in both the state House and Senate.
Former U.S. Housing and Urban Development official and congressional staffer Laura Hogshead was named the chief operating officer of the state's new Office of Recovery and Resiliency.
The Outer Banks Preservation Society asked visitors to respect national parks and areas along the Cape Hatteras National Seashore after a partial federal shutdown leaves them unattended.
The Salmon Creek property in Bertie County, which is believed to be tied to the Lost Colony, was transferred by the North Carolina Coastal Land Trust to the state Division of Parks and Recreation.
Roanoke Island sea turtle assistance and rehabilitation workers reported a surge in the number of cold-stunned turtles for the month.
The state's Coastal Resources Commission announced a new of dune rules.
Cleanups took place at national park facilities after the end of partial government shutdown.
February
The state mailed out $11.6 million in checks to commercial fishing operations for losses due to Hurricane Florence, the first round of payments under a new assistance program.
The state Department of Environmental Quality, or DEQ, Environmental Justice and Equity Advisory Board toured the Wilmington area including Sutton Lake coal ash ponds and Superfund sites around Navassa.
Conservation groups filed together a motion in federal court to stop seismic surveys while a lawsuit challenging the testing moved forward.
Work continued on a state-funded marine debris cleanup program that employed commercial fishing crews to clean up marshes and islands.
The Coastal Resources Commission advanced a new set of inlet hazard maps and rules, the first major revision proposed since 1981.
Twelve-term Congressman Walter B. Jones Jr., whose district included coastal counties from Currituck to Onslow, died on his 76th birthday.
Cooper testified before the U.S. House Natural Resources Committee on the impact of climate change in North Carolina.
Sunset Beach Mayor Greg Weiss, elected in October 2018, abruptly resigned.
At 12:20 p.m. Feb. 25 the new bridge over Oregon Inlet opened to traffic. The day before, residents were invited to walk across the spans, which reach as high as 90 feet above the inlet.
A dead humpback whale washed up on the beach near Corolla, the seventh winter stranding on Outer Banks beaches.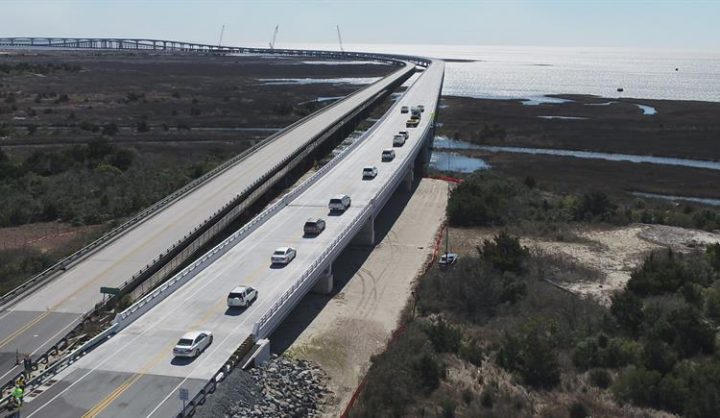 March
Mysterious booms, similar to so-called Seneca Guns, were heard along the coast.
In another indication of deteriorating water quality at Lake Mattamuskeet, U.S. Fish and Wildlife Service posted signs warning the public about harmful algae blooms.
Dare County Commissioners approved plans for the Shallowbag Bay dredging project to help move the 16th-century replica vessel Elizabeth II that's been stranded near the Manteo waterfront.
Cooper issued budget plans that included funds for improvements for DEQ's Reedy Creek labs, storm resiliency, PFAS monitoring and research and clean water infrastructure.
North Carolina joined eight other states in a legal fight to stop seismic testing.
Topsail Island towns began selecting restoration projects for heavily damage beaches through a grant program managed by Resource Institute, a Winston-Salem based nonprofit that was granted funding for the project.
DOT officials announced that a passenger-only ferry between Ocracoke and Hatteras won't be ready in time for tourist season.
The state DOT board approved naming the new bridge over Oregon Inlet for former state Senate President and Manteo native Marc Basnight.
The New Hanover County planning board approves a special use permit for a proposed sand mine adjacent to a toxic groundwater site.
At the annual Oyster Summit, coastal legislators announce new oyster legislation signaling a deal on how to handle new leasing programs and conflicts with other users of public trust waters.
Dare County officials reviewed the continuing deterioration of navigation channels around Oregon Inlet, making it difficult to move equipment in to demolish the old Bonner Bridge.
Federal officials approved next steps for planning the Mid-Currituck bridge project.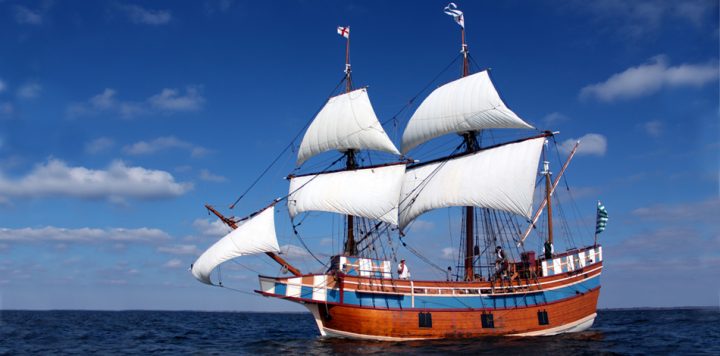 April
Officials held an opening ceremony of the Marc Basnight Bridge April 2 amid a nor'easter that Cooper described as a symbol of Outer Banks residents' resilience and dedication.
EPA announced plans to open up 100 acres, about half of the Navassa Superfund site, to development saying that part of the site does not pose a threat to public health.
Work wrapped up on a $20 million post-Florence beach renourishment project at Bogue Banks.
State officials approved a streamlined permitting process for the use of marsh sills and other living shoreline techniques for erosion controls.
A coalition of environmental groups announced plans to take legal action to stop the Mid-Currituck bridge project.
The CRC granted a variance to the State Ports Authority after officials appealed the denial of a permit to expand the Wilmington port turning basin.
The Oak Island Bridge, closed for six months during repairs, reopened to traffic.
DOT announced a lease for a new passenger-only ferry for the Ocracoke to Hatteras route.
Interior Secretary David Bernhardt announced that the administration is putting on hold drilling plans for the Atlantic pending appeals of a court order blocking offshore drilling in the Arctic.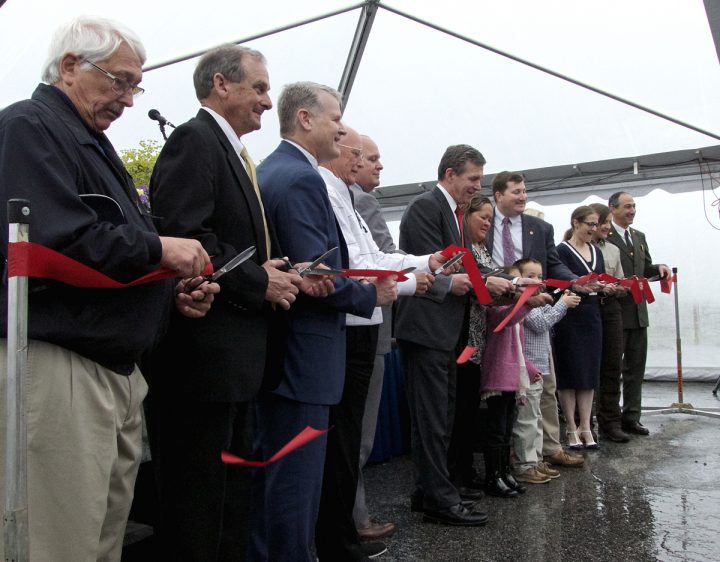 May
DEQ ordered testing of public water systems throughout the Cape Fear River watershed for PFAS and other emerging contaminants.
The state House introduced its version of the budget, which included significant funding for disaster recovery and resilience.
More than a dozen coastal mayors met with DEQ Secretary Michael Regan in Manteo to sign a statement in opposition of offshore drilling.
Offshore drilling and seismic testing opponents linked up on North Carolina beaches for Hands Across the Sands events.
Sen. Harry Brown announced that he is seeking to revive legislation aimed at limiting wind energy projects in eastern North Carolina.
Jessica Whitehead, a longtime specialist in coastal community hazards adaptation with North Carolina Sea Grant, was named the state's first Chief Resiliency Officer in the new Office of Recovery and Resiliency.
After a series of early season drownings, coastal rescue officials emphasized warnings about rip currents, a theme which continued throughout the season.
State Senate released its version of the budget that offered no funds for DEQ work on PFAS and reduced the department's overall funding.
Duke University scientists released studies of Sutton Lake that show a long-term process of unreported and unmonitored coal ash spills.
The PFAST Network, a group of public and private universities involved in emerging contaminant research, held in Wilmington a widely attended public forum on its work.
Debate over Duck's beach access policies heated up after a confrontation that led to a trespassing arrest.
Algae blooms started forming in the Perquimans, Pasquotank and Chowan rivers.
Division of Water Resources staff and other state officials investigated a fish kill in the lower portion of the Neuse River near Havelock in the areas of Flanners Beach and Carolina Pines.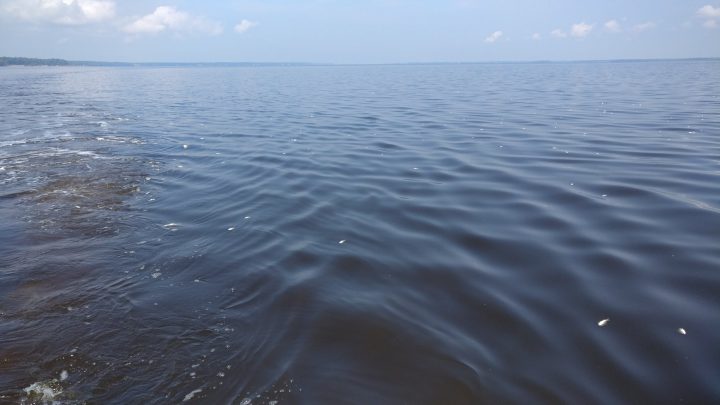 June
New shellfish legislation was signed into law. The bill created rules for leases and established new shellfish enterprise zones, set up a pilot program in Pamlico Sound for three large-scale leases and expanded areas allowed for growing seed oysters in floating upweller platforms, known in the trade as a FLUPSY.
A state study called for more laws to help local governments deal with derelict vessels.
North Topsail Beach officials bristled over an analysis by the Program for the Study of Developed Shorelines at Western Carolina University that a buyout of vulnerable properties would be far cheaper than the money spent saving them.
House and Senate leaders reached a budget deal and passed a new, two-year spending plan, but the margin included only a handful of Democrats. Cooper quickly vetoed the bill.
Avangrid Renewables began to study the seabed and subsurface conditions using high-resolution geophysical surveys of the Kitty Hawk Offshore Wind Lease Area about 24 miles off the North Carolina and Virginia coasts.
Cape Lookout National Seashore officials temporarily closed 19 miles out of 47 miles to motor vehicles to protect record numbers of nesting shorebirds and sea turtles.
Hunting ended on Carrot Island after a new law putting the protected land in the town of Beaufort corporate limits took effect.
July
The Swan Island Oyster Reef in Pamlico Sound, part of the Jean Preston Oyster Sanctuary Network, was completed.
WesternGeco, a seismic testing company, filed an appeal after North Carolina denied it a permit to start testing.
After EPA officials rejected the change, the state Environmental Management Commission formally dropped the controversial swamp water classification for the lower Cape Fear River basin.
DOT received approval for sandbags to protect the loop at the north end ferry landing on Ocracoke Island.
A $5 million state grant to nonprofit Resource Institute for beach renourishment and restoration work was redirected by the legislature to North Topsail Beach, Surf City and Topsail Beach after concerns were raised about the firm's lack of experience with coastal work.
State health officials issued more warnings about algae blooms around Albemarle Sound.
Testifying in a redistricting trial, Sen. Harry Brown said a bill limiting wind energy projects was dead for the session.
Beaufort artist Craig Gurganus, known for using recycling surfboards to create colorful fish sculptures and a longtime supporter of coastal protection, died at 66.
Cape Hatteras National Seashore officials announced Tuesday that for the third time in five years, a sea turtle nesting record has been broken, with the discovery of the 326th nest.
The North Carolina Aquarium on Roanoke Island announced that Molly, the North American river otter that delighted visitors for nearly 18 years, was euthanized after having a seizure.
August
A national real estate industry study showed that North Carolina ranks second among states with the highest number of new homes in the 10-year flood risk zone.
The CRC's Science Advisory Panel announced that a new update of the state's seal level rise report would extend beyond the 30-year limit of the last report.
State officials approved a new plan for water quality improvements for Lake Mattamuskeet.
The Southport-Fort Fisher ferry route was shut down after a mechanical failure in the ramp system at the Southport terminal.
A 110-acre tract on the southern tip of Topsail Island was put on the market, prompting concerns about over development.
State Marine Fisheries Commission approved new southern flounder limits.
Ferry Division officials reported that the Ocracoke Express passenger ferry was expected to have transported 30,000 passengers between Hatteras Island and Ocracoke Village between when it launched in May and Labor Day Weekend.
September
Over Labor Day weekend, Cooper declared a state of emergency in all 100 counties as forecasters said Hurricane Dorian, stalled over Grand Bahama Island, could speed up and reach the North Carolina coast within days. Curfews began in several coastal towns and counties.
Hurricane Dorian grazed the North Carolina coast along the Outer Banks. Its winds downed power lines dozens of miles inland, drove the waters of Pamlico Sound into soundside communities on Hatteras Island and caused extensive flooding and damage on Ocracoke Island.
Multiple tornadoes spawned by Hurricane Dorian caused damage in several coastal counties, including the destruction of more than 30 homes at a mobile home park in Carteret County.
Helicopters, small planes and emergency ferries ran supplies to Ocracoke where residents reported that a tsunami-like wave of water destroyed homes and businesses and put nearly every vehicle on the island out of commission. No deaths or severe injuries were reported.
The House approved a disaster relief mini-budget that included funding for resiliency planning, housing buyouts, Bogue Sound conservation and repairs at UNC-Wilmington. The Senate passed a much more stripped down plan that only covered required matching funds for federal grants.
The Clean Water Management Trust Fund awarded Cedar Point a $1 million grant to help pay for a 56-acre park on the White Oak River.
Dominion Energy announced plans to build the largest offshore wind development in the country in federal waters 27 miles off Virginia Beach. Economic development officials in northeastern North Carolina said the project would boost the economy in the region.
After more than a monthlong shutdown, ferry service resumed between Southport and Fort Fisher.
October
After months with little progress on budget negotiations with the governor, legislative leaders announced they would spend the month moving a final set of bills, including the last round of mini-budgets, to fund various agencies and departments.
Ferry system officials reversed a decision to shut down ferry service between Hatteras and Ocracoke Village citing widespread demand.
President Trump approved North Carolina's request for a major disaster declaration for counties hit by Hurricane Dorian, allowing FEMA Public Assistance programs to cover debris removal and repairs to public infrastructure.
A new analysis found levels of PFAS far higher than previously reported around the Wilmington intake at Lock and Dam No. 1 in samples collected between 2014 and 2016.
An archaeologist with the state's Underwater Archeology Branch said a recently exposed wreck across from the Wreck Tiki Bar and Food in Hatteras Village could be the Dulcimer, English bark stranded in February 1883.
Legislators approved a transportation mini-budget that included $11 million to raise power lines over the Cape Fear River near the Port of Wilmington, $1 million to cover the cost of leasing a passenger ferry for the Hatteras to Ocracoke Village run, and money for repairs and renovations for hurricane damaged facilities.
The Coastal Federation reported to the Coastal Resources Commission that commercial fishing crews collected about 200 tons of marine debris through a Hurricane Florence recovery project.
The Division of Water Resources started work on a dredge spoils project to identify areas in state waters where sand from nonfederal dredging projects can be deposited.
Legislators approved a wide-ranging environmental bill that freed up additional matching funds for beach repair and renourishment and financially distressed water and sewer systems and required and a new statewide inventory of firefighting foam.
FEMA rejected a state request for individual assistance, which provides direct assistance to homeowners, saying damage thresholds had not been met. Cooper and other officials said the state would step in with additional help.
At a public meeting, Navassa residents questioned an EPA proposal on developing a portion of the area's Superfund site deemed safe.
November
House and Senate negotiators settled on a $180 million disaster recovery bill that covers the state match for federal aid for hurricanes Matthew, Florence and Dorian, and Tropical Storm Michael; $1.7 million for Ocracoke School repairs; money for flood control at Lake Mattamuskeet; and stream debris removal. The bill also included $15 million for the Office of Recovery and Resiliency for local government support and hazard mitigation planning.
Hurricane-weary residents braced for more high winds and water and road overwash as a powerful storm packing sustained winds between 30 and 50 mph roared across the Outer Banks. Sand and standing water on N.C. 12 blocked passage on Pea Island and Hatteras Island and set back efforts to reopen Ocracoke Island, still closed due to Hurricane Dorian damage.
The state took ownership of 35 acres at Sunset Beach that will be added to the Bird Island Coastal Reserve, ending a long legal fight over a proposed development for the area.
Southport halted planning work on a new wastewater treatment plant near Sunny Point after residents in the area objected. Town officials agreed to not build their own plant and instead would coordinate expansion needs with Brunswick County.
NOAA announced plans to phase out paper nautical charts.
Officials with the state Clean Water Management Trust Fund announced a scaled back set of grants after the state budget impasse caused its funding to drop this year by $7 million. Audubon North Carolina said a similar, $8 million cut to the Parks and Recreation Trust Fund could delay plans for the Lea Island Natural Area, an undeveloped barrier island between Topsail Island and Figure Eight Island that's a critical nesting habitat for birds and sea turtles.
Coast Guard crews said a company responsible for a damaged tugboat that collided with Bonner Bridge deployed spill containment equipment after the vessel began leaking fuel.
Hyde County Commissioners signed off on a $600,000 state grant for Hurricane Dorian survivors to pay for 35 travel trailers for temporary housing and rental assistance for residents forced to temporarily relocate.
December
Ocracoke Island, off limits to the public since the first week of September, reopened Dec. 2. Three days later, DOT officials reopened all sections of N.C. 12 on the island. In addition to overwash and damaged dunes, more than 1,000 feet of pavement was destroyed in the storm.
Just as candidate filing for 2020 elections opened, a panel of judges reviewing a congressional redistricting lawsuit accepts newly redrawn districts. The changes are likely to yield a two-seat pickup for Democrats, shifting the partisan makeup of the congressional delegation from 10 Republicans to eight and three Democrats to five.
A new study by Environment North Carolina detailed risks from leaks and accidents at onshore facilities required to support offshore drilling operations.
Eight-term Sen. Brown, R-Onslow, the Senate Majority Leader and the chamber's top budget writer, announced he would not run again in 2020.
Coast Guard crews began work to remove the 88-foot Sea Angels that ran aground near a restricted part of Browns Inlet in Onslow County. The area has been used for military live fire training since World War II.
A massive sewer overflow in Wilmington sent about 2.44 million gallons of untreated wastewater to Smith Creek.