Taking a Kayak Tour: A Perfect Activity for Watersport Novices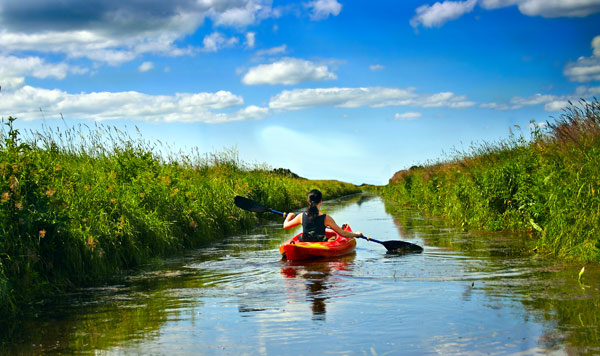 There is such a wide variety of water activities to enjoy on Hatteras Island, and whether a novice or an expert, opportunities to enjoy these activities span from Hatteras village to Pea Island. While watersports are the perfect outlet for thrill seekers, they can often be quite intimidating for first-timers. For those who seek to venture out beyond solid ground but prefer to start small, kayaking is the perfect activity. Kayaking on Hatteras Island not only provides a new perspective of the island for people of all ages and abilities, but can also be educational.
Before you begin your kayaking adventure on Hatteras Island, it helps to have knowledgeable guides to show you the way. There are ample options for guided tours on the islands, such as the Hatteras Island Ocean Center in Hatteras village, which is where I got my feet wet with a tour. The nonprofit Hatteras Island Ocean Center works in close cooperation with Hampden-Sydney College out of Farmville, Virginia, with lots of help from student interns. The Ocean Center offers kayak tours five days a week. Jake and Tyler, a sophomore and a junior, respectively, lead morning tours Monday, Wednesday, and Friday.
As the resident plant expert, Jake is happy to point out local vegetation and its place in the local marsh ecosystem. Tyler, who has been visiting the island with his family since he was young, is knowledgeable in the local catch and environmental policies. Together, these two educate both locals and tourists on the ecology of Hatteras Island. I had the privilege of touring with these two on Monday morning.
Jake and Tyler start all of their tours off with some basics in paddling and safety. Each kayaker is fitted with a life jacket and given a whistle to use in case of an emergency. While everyone is required to have a life jacket with them during the tour, only kids under 12 years of age are required to wear it. Luckily, the kayaks are extremely sturdy, and even if you flip, the water is very shallow in most spots. They recommend having plenty of water and sunscreen for the trip, and to dress with the assurance of getting wet. While there is room in the kayak for a few belongings, it is best to leave precious items at the car, as these things have the potential get wet.
Paddling is made simple by Jake and Tyler. You can start by placing your hands over-hand on the paddle, shoulder-width apart. You can either tuck your thumb under for stability or over to avoid blistering. To begin paddling, stick the paddle in right beside the kayak and drag it along the side. In order to conserve strength and energy, avoid placing your kayak paddle out too wide. To steer left, you must paddle on the right, and to steer right, you must paddle on the left. The belly of the paddle should be facing you as you paddle to give the kayak the most push.
Since the sound is made up of brackish water, it is a safe place for many animals to hang out and spawn. The water was really clear on the day we went out due to lots of recent rain, so marine life was extremely visible.  Some creatures you can expect to see on your kayak adventure are various bird species such as the brown pelican, the laughing gull, and the black skimmer. You are likely to see hermit crabs, oysters, and possibly even skates and red drum. Jake will also point out marsh grasses and trees, which are so vital to maintaining a balanced ecosystem. While it can be difficult to understand the way these species interact from land, the Ocean Center's kayak tour makes the island's ecology much more accessible and, therefore, makes it easier to comprehend how relationships between species impact the way the island operates.
During a brief hiatus on the beach, Jake and Tyler explain major aspects of marsh ecology including plant filtration, erosion control, and hurricane protection. They do an excellent job of explaining the interactions between weather, animal behavior, and plant biology that keep this island in a constant state of change. They note that while some of these procedures are certainly natural, humans have also affected the ecology of the island in unfortunate ways. Even though understanding our impact on the environment is so vital, it can often be difficult to see it practically played out until you get out on the water and learn more about these interactions.
Sometimes the summer can get so busy, that we forget to stop and not only enjoy the beauty around us, but also remember how it operates. Kayaking is an excellent way to spend a relaxing day on the water and to gain a new perspective on the island we call home. Whether taking a tour with one of Hatteras Island's watersports companies or renting a kayak on your own, every experience is a unique adventure with new and constantly changing sights to see.