Night Sky: The Green Comet, and more highlights for February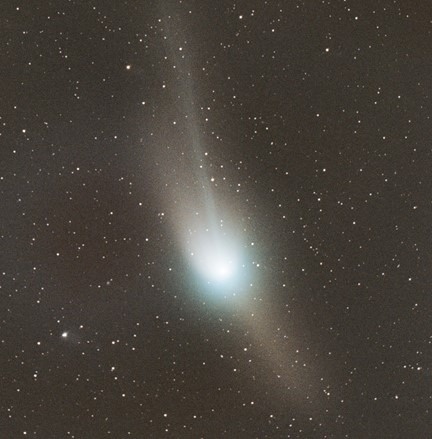 The Green Comet
I was lucky enough to get a very good evening of astrophotography on January 24. As a result, I got this image of comet C/2022 E3 (ZTF).
Both the color and shape of this comet are rather unusual. Most comets are predominantly yellow-bodied, with a blue tail. This comet is green! That's caused by the presence of diatomic carbon in the head of the comet. Diatomic carbon does not normally exist on earth because our atmospheric temperature is too low. It can exist in special instances that yield extremely high temperatures, like a lightning bolt or the head of a comet that's just returning from a close trip to the sun.
The second interesting thing about this comet is it has an extra tail that points in the wrong direction. On the top side of the comet, you can see two tails. The long skinny one is formed by ionized gas. The shorter, greenish tail is formed by dust being blown away from the head of the comet by solar winds. The third tail at the bottom of the head is called an anti-tail. It's actually explained as an optical illusion caused by the alignment of the comet and Earth. So, it's really no tail at all!
What you can look for in February's Night Skies
Comet C/2022 E3 (ZTF) will make its closest approach to Earth on February 1. It should be bright enough to see with a good pair of binoculars for about a week. You might be able to see it without binoculars if you have good eyesight. I spotted it on the night of the 27, but it was so faint, I had to check the sighting by using binoculars.
On February 1, look for Venus near the western horizon as the skies get dark. Higher in the sky, you should be able to spot Jupiter. Mars begins the night about 63° above the Eastern horizon.
There are no major meteor showers in February.
Moon Phases:
New Moon is February 20
1st Quarter is February 27
Full Moon is February 5
Last Quarter is February 13