We can't possibly thank everyone who was involved in yesterday's event enough! We are proud to call Wilmington (The Port City) our home with all of the love that was shared last night and that we will be sending to the Outer Banks. We don't have a final tally but we raised over $10,000! Thanks to Jason Miller for capturing a video of our new song "Lonely Roads" and due to high demand (basically sold out) we are taking orders for the OBX disaster relief T-shirt through our website, of which 100% of the profits will go straight to Ocracoke and Hatteras Island. Link to our merch store is below…squareup.com/store/the-midatlantic

Posted by The Midatlantic on Tuesday, October 1, 2019
The Midatlantic performs their new song, "Lonely Roads," at the Outer Banks Disaster Relief Concert. Video by Jason Miller.
Jason Andre has deep ties when it comes to Hatteras Island, and hurricanes. He moved to Hatteras Island when he was 8-years-old in 1988, and when Hurricane Emily hit just five years later, he remembers vividly watching the water rise from his parents' business of 20 years, the Cape Pines Motel in Buxton.
"At the time, locals would stay with us because we were the only brick structure on the island where people could get away from the water," he says. "I Remember the pine trees snapping, and all the water pouring in… The water from Rocky Rollison Road came all the way to the front steps of the motel."
Jason moved to Wilmington after graduating from Cape Hatteras Secondary School to attend UNCW, and after a few back-and-forth moves from the Port City to the island, he eventually settled in Wilmington with his wife.
But his connection with Hatteras Island, and North Carolina hurricanes in general, remained intact in the years that followed.
Jason was in Wilmington when Hurricane Florence made landfall in adjacent Wrightsville Beach in 2018, and he was in constant contact with his parents and friends in Frisco when Hurricane Dorian made landfall on Cape Hatteras roughly a year later.
"I started getting photos from our [family friend] Gary at the Gingerbread House, and started getting photos from friends through Facebook," he says. "Frisco was totally flooded, and I kept seeing the ensuing chaos that followed."
"We went through Florence last year, and that took weeks and months of recovery. In some cases, there are people who are still trying to pull their houses together, or who completely lost their homes. I knew Hatteras Island was going through the same thing, and I wanted to help."
With Florence still fresh in his mind, (as well as the many local organizations in Wilmington and beyond who helped out in the Florence's aftermath), Jason and his wife started to brainstorm ways they could help his former island home.
"We were looking for something – anything – to do, especially after seeing Hatteras, Frisco and Ocracoke get dominated by that storm," he says. "So we came up with an idea to put together a concert and get as many people involved locally as possible. We have a lot of people here who love the Outer Banks, and specifically Hatteras and Ocracoke."
Jason is the Owner/Producer/Director of Seven Season Films in Wilmington, but he's also a member of the Port City-based band, The Midatlantic, and he used his music connections to initially float the idea of a benefit concert.
"Within 48 hours, we had a venue at Watermans Brewing, had bands on board that I'm friends with and have played with, had a bunch of sponsors jumping in with supplies and money, and a lot of interest in general," he says. "By the time I put the idea out there to a handful of people, it snowballed."
"So many musicians, friends and [businesses] said they wanted to be a part of this," he says. "We have a lot of friends from that area who live here in Wilmington now, and who asked 'How can I help?'"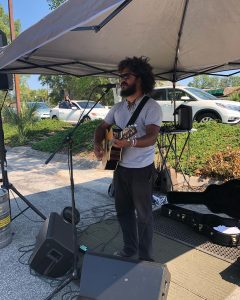 With offers of volunteer labor, donations, sponsorships, and musicians who wanted to join the line-up, Jason had to act fast. He says the team at Watermans Brewing were instrumental in getting the ball rolling, but he was flooded with help from all directions as well. A local sound company offered to help set up the two stages for the concert, while the Wilmington-based nonprofit Hope From Helen leant a hand in handling the financials. T-shirts were made, an event page was announced, interviews were conducted at the local Wilmington NPR and radio stations, and within two or three weeks there wasn't just a benefit concert – there was a full-on music festival.
The Outer Banks Disaster Relief Concert was held on Sunday, September 29, from 12 to 8 p.m., and the event featured a total of six bands, five singer / songwriters, a silent auction, food and drink, event T-shirts, and all the awesome things you'd expect from a good music festival. Headliners on the main stage included local musicians and bands The Midatlantic, Tumbleweed, Billy Heathen, Justin Lacy, and Da Howlies, and beers were donated by Wilmington's local breweries. Area artisans sold wares throughout the day, and a Pig Pickin' was held throughout the festivities.
Hundreds of folks came to the Sunday music festival, and though a donation of $5 was suggested at the door to help relief efforts, many attendees ended up giving much more. "Some people paid $20, some people paid $100," says Jason.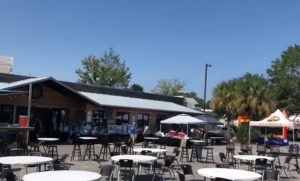 And throughout the day, donations kept pouring in, through all mediums. Jason has not yet been able to calculate the total tally from Sunday's event, (understandable, since the festival had so many different sources of fundraising), but the final amount appears to be past the $10,000 mark.
"Watermans Brewing put a lot of energy and effort into making it happen," he says. "We raised about $7,000 via the silent auction, had a $2,000 donation from Tito's Vodka, and then there were the cash donations, and the T-shirt and merchandise sales. We also had physical donations of supplies that we'll be delivering to [Hatteras Island] this weekend."
Jason reached out to some of his friends on Hatteras Island to determine the best way to contribute the hefty donations from the concert. Half of the roughly $10,000 will be donated to the Cape Hatteras United Methodist Men, and the other half will be donated to the Ocracoke Foundation. Jason will be dropping off the checks this coming Saturday, as well as a truckload of supplies, and an offer to help out with labor over the weekend if any residents still need help cleaning and tearing out their homes.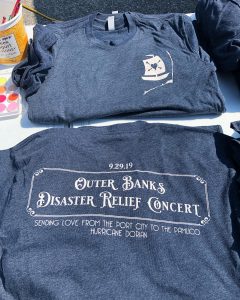 OBX Disaster Relief Concert T-shirts are still available for sale via The Midatlantic's merchandise store at  https://squareup.com/store/the-midatlantic, with 100% of the profits going straight to Ocracoke and Hatteras islands.
In the meantime, considering that the whirlwind Outer Banks Disaster Relief Music Concert came about in a matter of days, (and raised thousands of dollars for Dorian relief as a result), islanders on Hatteras and Ocracoke can rest assured that the coastal communities down south have their backs.
"We called it a concert, but it was basically turned into a music festival, and everyone wanted to help," says Jason. "I was definitely overwhelmed by the support, but in a really positive way… It was incredible how much people wanted to give back, and how much they did give, to help our friends [on the Outer Banks.]"