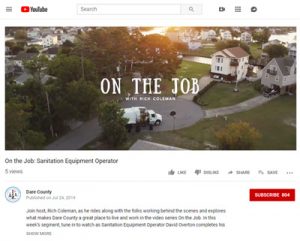 Dare County, in partnership with Current TV, has released the first segment of On the Job, a new video series dedicated to highlighting hardworking Dare County employees providing vital services to residents and property owners. Join host, Rich Coleman, as he rides along with the folks working behind the scenes and explores what makes Dare County a great place to live and work.
In this week's segment, tune in to watch as Sanitation Equipment Operator David Overton completes his trash collection route in Colington. Overton, a Manteo resident and seven-year employee of the Department of Public Works, starts work at 2:30 a.m. during the busy summer season.
On the Job is available for streaming on Dare County's YouTube Channel at www.youtube.com/darecounty. The video will be broadcast on Current TV Government Channel 191 for local Spectrum TV customers. CurrentTV's programming schedule, On the Job and additional Dare County programming, is available for viewing on-demand at CurrentTV.org.
Current TV is a collaboration between Dare County, local municipalities and educational entities. Current TV provides a diverse range of visually dynamic government and education programming. By highlighting community initiatives, government services, and local sciences, Current TV expands viewers knowledge of the community's infrastructure and services. All programming is accessible on Current TV's streaming channels, on-demand video website, and Channels 191 and 198 for local Spectrum TV customers.