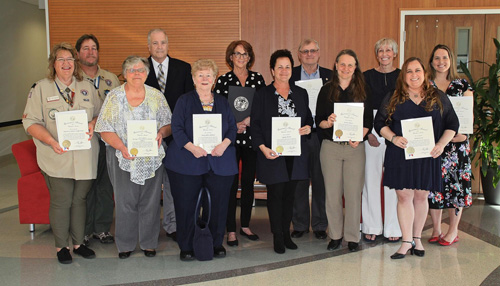 The 2019 North Carolina Governor's Volunteer Service Awards were presented to local recipients at the April 15 Dare County Board of Commissioners meeting in Manteo, and Hatteras resident Wendy Stowe Sisler was among this year's honorees.
Sisler will also be receiving the Governor's Medallion Award in Raleigh, which is given to only 20 recipients in the entire state, and which will be commemorated at a separate ceremony in May.
Sisler was honored for her efforts to establish the new PORT Health in Hatteras village, which provides substance abuse and mental health services on Hatteras Island. The years-long project stemmed from the loss of her son, Cory Stowe Sisler, who passed away in December of 2017 after a long struggle with addiction. In the months and eventual years that followed, Wendy spearheaded a movement to make substance abuse treatment more accessible for islanders, which eventually resulted in the opening of the mental health center in November, 2018.
Sisler was nominated for the award by Michelle Hawbaker from PORT Health, who worked with her to launch the mental health center from the earliest stages.
The Governor's Volunteer Service Award program was initiated in 1979 and is given to 1,000 volunteers annually all across the state. The Outer Banks Community Foundation receives nominations from all across Dare County for the award, and then reviews and turns over their selections to the Governor's office. From there, a final decision is made, and the names are given back to the local awards committee.
Essentially, this means that the awards are from the governor himself, and 2019 marks the 40th year that the award has been given to local honorees.
At the BOC ceremony, Sisler received a standing ovation for her efforts from both the County Commissioners and the meeting attendees.
"I was completely in awe… It was a moment I'll never forget," says Sisler. "Chairman Bob Woodard said that [the project] wouldn't bring my son back, and it won't, but it will help other people… and it was one of the most touching moments I've ever had."
Additional Governor's Volunteer Service Award recipients who were honored at the April 15 Board of Commissioners meeting include the following Dare County residents:
• Marion and Blair Siefferman for their service to Boy Scout Troop 116 and Cub Scout Pack 116
• Sheryl Tillett and George Viverette for their service to Kitty Hawk United Methodist Church
• Mary Ellen Holland for her service to the Seniors' Health Information Program (SHIIP)
• Lynda Hester for her service to the Dare County Center
• Dennis Pohl for his service to the Network for Endangered Sea Turtles (N.E.S.T.) program
• Laura Davis for her service to the Northern Beaches Division of Dare County Parks & Recreation and to Dare County Special Olympics
• Kathleen Morgan for her service as coordinator for Dare County Special Olympics
• Jonna Lewis for her service to the Northern Beaches Division of Dare County Parks & Recreation
• Juliane Kelly for her service to the Dare County Friends of Youth mentoring program.