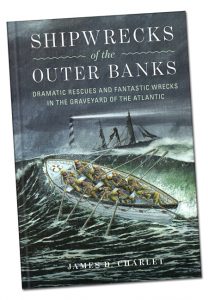 By John Havel
If you're a frequent reader of the Island Free Press, or any of many other Outer Banks online or print magazines, then you have most likely read one or more interesting articles by local historian, speaker, and performer James D. Charlet or, as he prefers to be called, "Keeper James."
For over three decades, Keeper James has enlightened visitors to the Cape Hatteras Lighthouse, performed in character as a mariner on the Elizabeth II sailing ship, and greeted guests as Keeper James, surfman on duty, at the Chicamacomico Life-Saving Station, where he served as site manager alongside his equally delightful wife, Linda Molloy—aka the Keeper's wife—for over ten years.
Now, after two years in the making, Keeper James' new book, published by Globe Pequot Press, is complete. "Shipwrecks of the Outer Banks: Dramatic Rescues and Fantastic Wrecks in the Graveyard of the Atlantic" can be purchased online, and with an official release date of March 1, will be available at island bookstores and other retail outlets in just a few weeks.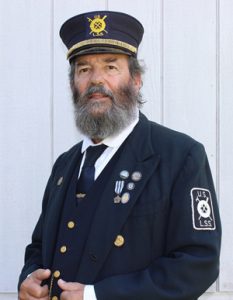 The book chronicles more than twenty well-known, not so well-known, and "you never heard of these" stories of real shipwrecks and the life-saving heroes of North Carolina's Outer Banks who risked life and limb to rescue the souls onboard these ill-fated ships. Each chapter is a dramatic wreck and rescue story, so you can enjoy just a quick read during a busy day, or you can binge-read the whole book by the pool, at the beach, or just curled up in your favorite chair. And for the Outer Banks researcher and historian, Keeper James has included substantial appendices of facts and statistics regarding North Carolina's Life-Saving Service and shipwrecks of the Outer Banks.
A master storyteller, Charlet has previously written articles on the history of Buffalo City timber and moonshine, the Dismal Swamp, Outer Banks wineries, Monarch butterflies, the Outer Banks History Center, the Pea Island Lifesavers, and recently, the Hatteras Highwire Heroes, those hardy linemen who keep our power flowing during the island's worst storms.
But James' favorite topic, (and as a recognized expert his most popular), is that of shipwrecks of
the Outer Banks… and there has certainly been a lot of them! James has written stories on the wrecks of the Robert H. Stevenson, the Hester A. Seward, the steamer Ariosto, the Ario Pardee, the Bounty, and the famous Outer Banks "Ghost Ship," the Carroll A. Deering, always with gusto and an exciting, historically accurate turn of a phrase. Also, with his wife Linda, he has developed and regularly performs in historically accurate "slice of life" dramatic renditions of life as it used to be here on the coast, such as The Lost Colony Found, OBX Lighthouses, and a popular piece on little-known facts about the Wright Brothers.
John M. Havel has spent over 10 years researching the Cape Hatteras Lighthouse and is a Board Member of the Outer Banks Lighthouse Society. John and his wife Aida moved to Salvo in October 2017 when he retired and they now run the Airbnb Sunrise Over Salvo.