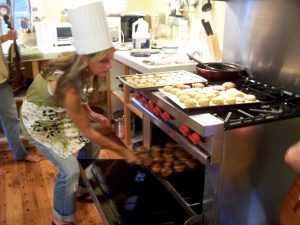 October 20-25, 2019, Ocracoke Alive's Ocrafolk School will offer an insider's guide to Ocracoke Island designed to spark creativity and sense of community. Based at the historic Berkley Manor, inspiring instructors will guide adult participants of all experience levels through their choice of one of six specialized courses: Cooking with Island Chefs, Jewelry Making, Mind and Body Renewal, Carving & Painting a Redhead Duck Decoy, Drawing with Love (and a Little Science), and Exploring Ocracoke's Past, Present, & Future. Small class sizes allow for individualized attention from teachers.
Participants also get to explore the island through a variety of group activities: taking walkabouts with resident guides, savoring an incredible menu of local food (seafood!), and enjoying talented local musicians and storytellers.
Only accessible by ferry, North Carolina's remote Ocracoke Island is an enchanting step out of modern times into a world of captivating natural beauty, rich maritime history, ghostly shipwrecks, heroic lifesavers, crafty pirates, and a community of 1000 independently minded residents.
Tuition for all classes is $725 and includes Group Activities & Meals (4 Dinners, 5 Breakfasts). Proceeds from Ocrafolk School support student and community programming on Ocracoke Island. Ocracoke Alive is a community non-profit dedicated to enriching the Ocracoke Island community by encouraging and sponsoring cultural, artistic, educational, and environmental activities.
Here's what students are saying. . .
"I love having the experience of living here with the artists, singing with them, sharing meals with them. I could hardly sleep after the first day – I had thirty ideas in my head all at once!"
"It exceeded all my expectations and they were high!"
"My only regret is that I have but one stomach to give to this meal!"
For more information visit www.ocracokealive.org or contact through info@ocracokealive.org or 252-921-0260