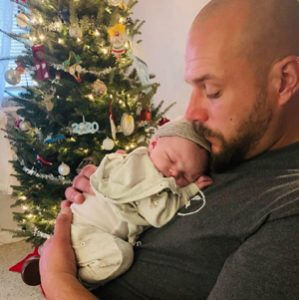 February 3, 1984 – May 13, 2021
BUXTON — Adam Michael Cimino, 37, of Buxton, NC died Thursday, May 13, 2021.
Born in Waterbury, CT on February 3, 1984, he was the son of Alba Borgnis Cimino and Paul Cimino of Frisco, NC.
With a great sense of humor, Adam brightened every room he entered. Always willing to help anyone in need, he was a free spirit who truly loved his friends and family. Adam loved to cook and always enjoyed spending time with family. Adam adored his baby boy Roman. He had a way of always making Roman smile and laugh. A great father and wonderful son were always evident in his actions and words. Truly loved by his family and friends, he always made himself available to everyone. Adam was an honest, stand-up person who was loved by everyone he met and always put family first. We will miss him very, very much.
In addition to his parents, Adam is survived by his son, Roman Benjamin; brother, Sam Cimino of Hatteras whom he looked up to and admired so very much; two nephews, Dominic and Angelo; aunts, Hazel Borgnis, Alberta Lucarelli (Luke), and Cheryl Cimino; uncles, Albert Borgins, Jr. (Christina) and Peter Cimino (Holly); his girlfriend, Sarah Roughton; and an abundance of cousins and lifelong friends.
He was preceded in death by his sister, Ashley Lauren Cimino. Adam loved his sister very much and felt it was his duty to protect her from any harm. He adored Ashley unconditionally and showed it always. Also, predeceasing Adam was his paternal grandparents, Dominic and Dorothy Cimino; and maternal grandparents, Albert and Edna Borgnis.
A funeral mass will be held at 10:00 am on Wednesday, May 19, 2021, at Our Lady of the Seas Catholic Parish in Buxton. The family will receive friends and relatives for a viewing and visitation Tuesday evening from 5:00 until 7:00 pm at the church.
To plant a tree in memory of Adam or send flowers to the family, please visit www.TwifordFH.com/send-flowers.
Twiford Funeral Homes, Outer Banks is assisting the family with arrangements. Condolences and memories may be shared at www.TwifordFH.com.