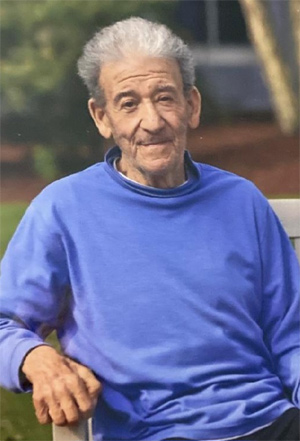 KILL DEVIL HILLS —  It is with great sadness that we announce the passing of Albert Anthony Munza, age 91, who died peacefully on Sunday, September 3, 2023. "Uncle Al" was a sweet, friendly, good man with a great sense of humor. He was born in Bronx, NY on December 13, 1931. His mother, Francesca Cortizuto Monza, passed away from cancer at the age of 39 when Al was 6 and his brother Dario was 8 years of age. At that time their father, Egidio Spagnuolo Monza, was not able to care for the two boys and they were sent to a Catholic orphanage in Staten Island, NY. They both lived there until graduating from Tottenville High School.
Dario joined the U.S. Marines first, during the Korean War, and Al followed him two years later. Al was enlisted for 8 months when his brother Dario was killed at age 22 in a plane crash that was enroute from Tokyo to Korea. Al served another two years and returned to the Bronx. There, several years later he met a girl named Mary Ellen Finn at a dance in Orchard Beach, Long Island. They became fast friends. Mary Ellen had a young son, Michael, who Al adored and looked after. Michael passed away at age 4 and Al was always there for Mary Ellen from that point on.
Al and Mary Ellen traveled extensively to places like Majorca and the Canary Islands in Spain. They had travel buddies and enjoyed life. Mary Ellen shared her family with Al and he soon became a beloved uncle, great uncle and brother-in-law. Al drove a taxi in New York and worked for the U.S. Post Office before his career with the Metropolitan Transit Authority.
When Al retired, he and Mary Ellen moved to Kitty Hawk, NC. They were married, after all those years of friendship, in January 1995 and had a great retirement life with family and friends on the Outer Banks of NC. Al loved spending time playing and watching golf and was a huge NY Giants and Yankees fan.
Besides his mother, father and brother, Al is predeceased by his sister-in-law, Kathleen Finn Burke and his great niece, Caitlin Elise Palmiter.
Al is survived by his wife, Mary Ellen Finn-Munza of Kill Devil Hills, NC; his brother-in-law, Daniel Burke; sister-in-law, Elisa Tutini of Monroe, NY; his niece, Suzanne Sumners and husband Scott of Kill Devil Hills, NC; nephew, Thomas Burke and wife Christine of Campbell Hall, NY; nephew, Kevin Burke and girlfriend Cynthia Kaplan of New Windsor, NY; great niece Danielle Palmiter of California; and great nephew, Dylan Burke of Campbell Hall, NY.
A Memorial Gathering will be held at the Gallop Funeral Services Chapel in Nags Head, NC at 10:30 AM on Saturday, September 9, 2023. Please share condolences with the family at gallopfuneralservices.com. Gallop Funeral Services, Inc. was entrusted with arrangements.