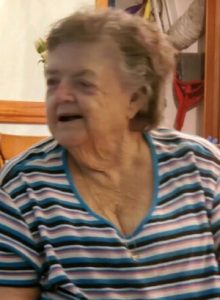 November 1, 1933 – September 1, 2020
KILL DEVIL HILLS — Barbara Lee Williamson, 86, of Kill Devil Hills, NC died peacefully at her home on Tuesday, September 1, 2020.
She was preceded in death by her parents, Victor and Lena Stoneking; her husband, Willie Williamson; two sons, Steven Wright and David Wright; and two grandchildren, Monica Davis and John Adam Whitlatch.
Mrs. Williamson is survived by her daughter, Susan Wright; her son, Bob Stoneking; grandchildren, Bobbie Ward, Todd Wright, Brian Wright, Nicole Hypo, Brad Wright, Alex Wright, Justin Stoneking, and Brianna Stoneking; and great-grandchildren, Sean, Danielle, Kay-Lee, Samantha, Nicholas, Matthew, Jeremiah, Kaleb, Dominick, Morgan, Luca, Byron, and Athena.
The family will celebrate her life privately.
Twiford Funeral Homes, Outer Banks is assisting the family with arrangements. Condolences and memories may be shared at www.TwifordFH.com.