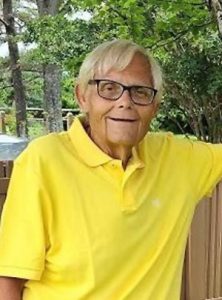 BUXTON — Braxton Bragg Hall, Jr. passed away peacefully at his home in Buxton, NC on June 24, 2022. He had been surrounded by a loving "Care Web" of family and friends who made sure he was comforted and passed with a high level of dignity after a long battle with Cancer.
Braxton was the son of Braxton Bragg Hall, Sr., a former jet engine mechanic at Marine Corps Air Station at Cherry Point and Edith Cavel Davis Hall, a registered nurse at Carteret General Hospital in Morehead City and the brother of David G. Hall, founder of Mitchell Village Animal Hospital in Morehead City, all of whom predeceased him.
He graduated from West Carteret High School in 1969 and was awarded the American Legion Citizenship Award and voted "Most School Spirited!" From 1969-1974 he attended East Carolina University earning a BS in History and was also the Speaker for the Student Government and a member of Phi Sigma Pi National Honor Society. He was named to "Who's Who Among American College Students", "Most Outstanding Senior" in the History Department and Awarded a Teaching Fellowship for Graduate School in 1974.
However, his greatest achievement was his teaching career at Cape Hatteras High School from 1974-2010. He received many accolades during his 36-year career including Dare County Teacher of the Year in 1985, the Terry Sanford Award of Creativity in the classroom in 1984, President of the Dare County Association of Educators for 3 terms, a leader in the North Carolina Association of Educators and President of the NCAE District 15. Braxton was the Sponsor and Organizer at CHHS of the Student Government Association, the National Honor Society, the Yearbook, Homecoming and was infamous for proudly calling out the names of graduating seniors at 32 Graduations! His passion and love of theatre were shared when he became the Director of the CHS Drama Club where he directed 10 stage productions including plays: It's Great to Be Crazy; Tea and Arsenic; Don't Drink the Water; Bell, Book, and Candle; Ten Little Indians and Musicals: You're A Good Man Charlie Brown; Once Upon a Mattress; The Fantasticks; Grease and Little Shop of Horrors.
As a teacher, Braxton encouraged open expression of ideas, political expression on all sides, student debates, and simulations and no student will ever forget his incorporation of music and drama into almost every lesson plan he ever taught! He was very proud of the fact that he helped hundreds of students register to vote during his 36-year career.
Braxton will be truly missed by Dale Midgett, his loving partner of 17 years; Chris Bennett, and his wife Tiffany, Chris was Braxton's personal assistant, driver, landscaper and caregiver for the last 4 years and Chris considered Braxton a mentor and a Father Figure; Tami Jordan Thompson, his Award Show Watching, Broadway Loving, Call Me Anytime Even in the Middle of the Night for any reason, the Thelma to His Louise Friend of 44 years and VIP Friends: Joyce Bornfriend, Patricia Butler, David Ibarra, and Elke Schwartz, all of whom he shared special friendships with, His Personality Plus Shitzu, Miss Kamala Hall; Quirky but Sweet Cat Bella; a Bevy of Loving Cousins Martha and Robert O'Brien, Sally and Danny Boyd, Diane and Doug Willis, Molly Barker, Susan Barts and Cathy Campbell. He will also be missed by his fellow Educators, Constituents, and Beloved Students who had the honor to work and learn from him at Cape Hatteras School.
There will be a "Celebration of Life" at the Beach Klub, at Koru Village in Avon, on Sunday, July 24, 2022, at 6:00 pm, and expect a little fanfare! Flowers can be received at the Beach Klub before the Ceremony or donations can be made to any of the Island's Local Charities to honor the Ompactful, Generous and Wonderful Life of Braxton!
There will also be another "Celebration of Life" held in Morehead City on Saturday, August 6, 2022, at 10:00 am at Munden Funeral Home which is sure to be a wonderful Celebration as well!
Twiford Funeral Homes, Outer Banks is assisting the family with arrangements. Condolences and memories may be shared at www.TwifordFH.com.