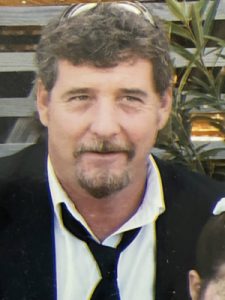 May 10, 1965 – March 24, 2022
MANNS HARBOR — Cameron Todd Daniels, 56, of Manns Harbor, was found deceased at his home, March 24, 2022. Born May 10, 1965, in Norfolk, he was the son of Moncie Lee Daniels III and Wanda Dale Burrus Daniels. Todd was a United States Air Force Brat who lived in Knoxville, Tennessee, and Honolulu, Hawaii, with his family before returning to Manteo where he was overwhelmed by the family love and support he had.
Graduating from Manteo High School, in 1983, Todd went on to continue his education at Lees McRae College on a football scholarship, where he studied for a year, before changing paths and going to Pitt Community College for extensive electrical training. In 1987, Todd graduated with two diplomas from PittCC, one in Electrical Installation and Maintenance and the other in Industrial Maintenance/ Electromechanical. Right after college, Todd began his career and a family of his own. Being a man who loved change, he was employed by several  companies and even started his own company, 'Daniel's Electric,' before settling down with Dare County Buildings and Grounds as an electrician. Todd maintained his Electrical Contractor License in North Carolina and Florida from 1994 until 2021.
While work was an important part of Todd's life, he was also sure to make time for the things he loved. Todd was an avid outdoorsman, who spent many years racing ATVs and dirtbikes in which he won many awards, spending hours in the woods to deer hunt, or watching and riding the waves in the ocean. He always had some sort of project he was working on or fixing, and anytime he saw an opportunity to sell or trade, he was the first in line. His way of living changed in 2003, when his only child, Cathryn, was born. He spent many hours of his precious time with her, teaching her, supporting her, and loving her. Todd was a very proud father and was sure to show his daughter just how important she was to him.
Being raised in the way of the Lord by his parents, he continued to place his faith in God throughout his life, and God was gracious to him. Todd would always say during a stressful or hard time, "I will just put it into God's hands," and this always seemed to lead to an answer. After his mother's passing, he drew especially close to God and began attending church more often at Mt. Olivet United Methodist Church, Mt. Carmel United Methodist Church, or watching Joel Osteen on the TV. Todd had plans to go see and hear Joel Osteen live in the near future.
Surviving Todd are his only daughter, Cathryn Dale Daniels, sister Teri Allison Daniels Simpson (Rex), brother Moncie Lee "Mickey" Daniels (Chris), nieces Tori Daniels Baldwin (Aaron), Shea Daniels, nephew Wesley Carmichael (Samantha), and many cousins and friends who he loved dearly.
He was preceded in death by both of his parents, close friend Elliot Curtis Daniels, and his best friend, his black lab pitbull mix, Stormy.
During his last year of life, Todd got to spend time for himself and his family. He took care of his mother for months before she went on to be with the Lord; then he worked on finalizing some of the projects he had been working on for years. Todd was truly living his dream in his final days.
A memorial service will be held on Thursday, March 31, 2022, at 2:00 pm at Mt. Olivet United Methodist Church to celebrate the life of Todd and will be officiated by Pastor Marc O'Neal and Rev. Kenny Midgett. A private burial for the family will be held at the Manteo Cemetery. The family will receive friends at Twiford Colony Chapel on Wednesday evening, March 30, from 6:30 pm until 8:00 pm.
In lieu of flowers, memorial donations may be made to Mt. Olivet United Methodist Church (PO Box 787, Manteo, NC 27954) or Mt. Carmel United Methodist Church (PO Box 95, Manns Harbor, NC 27953). To help a man's best friend at our local animal shelter, in remembrance of Todd, donate to the Outer Banks SPCA using the following link https://interland3.donorperfect.net/weblink/WebLink.aspx?name=E357855&id=1
Twiford Funeral Homes, Outer Banks is assisting the family with arrangements. Condolences and memories may be shared at www.TwifordFH.com.