C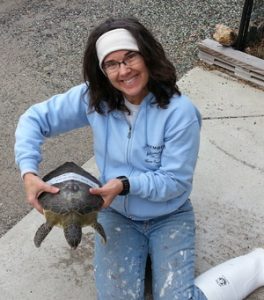 assandra Hughes Jones Garrison passed away peacefully at her home in Charlottesville, VA on May 2nd, 2022 in the company of her family. Sandi ("like the beach") touched the lives of many and cared for her loved ones up to her final moments.
Sandi appreciated and did not take for granted the life she was given. At Orange County High School, she participated in gymnastics, swimming, tennis and cheerleading in addition to drama and the National Honor Society. At James Madison University she was a member of the Tri-Beta Biology Honor Society, went spelunking, and assisted with SCUBA lessons.
Sandi was always dedicated to her church community. She attended Orange Baptist Church as a child. After college she joined University Baptist Church in Charlottesville where she played handbells, taught chimes to youth, and taught Sunday school. At UBC, she was also on the Nominating Committee and was the first woman to chair the Building and Grounds committee. Upon retirement, Sandi's spiritual journey led to Our Lady of the Seas Catholic Church in Buxton, North Carolina where she was drawn to the teachings of the early Christian Church.  It was there that Sandi created the church's first outreach program for parishioners in need. She was confirmed in the Catholic faith in 2017.
Sandi enjoyed camping, dancing, reading, bicycling, knitting. She loved playing cards and learning about (and tasting) wines. When she was 55, she trained for and ran a marathon on the Outer Banks.
Sandi worked for the University of Virginia for 30 years – beginning in Pediatric Oncology Research, then in Pathology, and finally in the Hematology/Oncology Bone Marrow Lab. In collaboration with her supervisor and daughter Lindsey, she was instrumental in acquiring a patent for a hematopoietic cell chart used to help track the normal progression of blood cell development.
When UVA closed the lab forcing her into early retirement, Sandi found renewed purpose and community at Blenheim Vineyards in Albemarle County where she worked for 5 years. She always felt that Blenheim was the best job she'd ever had.
After Sandi moved full-time to Buxton, NC she devoted her time and love to important community organizations. She was certified as a Community Emergency Response Team (CERT) responder and helped families in crisis after devastating hurricanes and nor'easters. Sandi was a Hospice volunteer and gave much comfort and respite care to families and individuals navigating difficult end-of-life experiences. Sandi interviewed older residents of Hatteras Island for "Coastal Voices" – a project to preserve the oral history of the Outer Banks, now stored at the Library of Congress. Sandi also spent many mornings and evenings protecting cold-stunned sea turtles and their nests. In 2016 she received the NC Governor's prestigious Medallion Award for exemplary volunteer work – an honor bestowed upon only 20-25 recipients each year.
Sandi refused to give up on her goals even while coping with a terminal illness for 16 years. Sandi did not want to be treated as the "lady with cancer" but rather "Sandi – wife, mother, friend, steward and caregiver." Sandi strove to leave the people she met and places she occupied better off than she found them. Sandi protected her family above all else. Sandi forgave others while redefining relationships as they changed throughout her life. Sandi laughed, prayed, and enjoyed life. Sandi saw the good in others and defended those less fortunate. Sandi knew that strength is developed and to give no power away. Most importantly, Sandi loved with her whole body and soul up to her last breath. Sandi inspired those in her sphere of influence to lead better lives.
Sandi is preceded in death by her parents George Sr. and Dorothy Jones. She is survived by her husband of 41 years, Thomas Allen Garrison as well as her children Forrest Garrison and Lindsey (Mladen) Krstic; and four grandchildren Mateja, Emilija, Aleksandar, and Zorana Krstic.
On Wednesday morning, June 22, 2022, an end of life mass will be held at 10:00 at St. Thomas Aquinas Church in Charlottesville, VA, followed by a graveside interment at Graham Cemetery in Orange, VA. Family and friends are invited afterwards to attend a celebration of Sandi's life from 1-5  p.m. at the clubhouse in the Cascadia subdivision in Charlottesville, Virginia.
In lieu of flowers/gifts, consider donating to Hatteras Island Wildlife Rehab in Frisco, NC,  Cape Hatteras Community Emergency Response Team (CERT), the Network for Endangered Sea Turtles (NEST), or a meaningful charity of your choice in Sandi's name.  Family members can assist in providing information on these organizations.