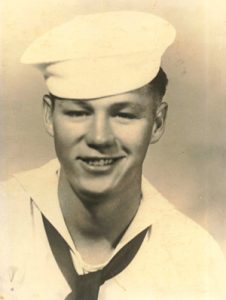 July 29, 1935 – May 19, 2022
AVON — Cecil Stanley Williams, Jr., 86, of 40169 Scarborough Road, Avon, North Carolina died May 19, 2022, at Spring Arbor of The Outer Banks, Kill Devil Hills, NC, with his brother Dennis and his many nursing home friends from the staff and Dare County Hospice at his side. He was born July 29, 1935, in Elizabeth City, NC to the late Cecil and Ruby O'Neal Williams of Avon.
Cecil grew up working on commercial fish boats and following his favorite sports on the radio. Playing baseball, hunting, trapping, fishing, swimming, and boxing are the things he loved about his hometown village of Kinnakeet and Hatteras Island.
At the age of 17, he hitched a ride to Norfolk, Virginia and joined the United States Navy. After completing basic training at Bainbridge, Maryland, he was assigned to the Battleship Wisconsin and destroyers in the pacific during the Korean War as an Operations Fire Control Radarman. While on the Wisconsin he pursued his favorite sport of bowing and at the age of 19 was crowned the light heavyweight champion. Later he transferred over to the United States Guard where he served as a Radarman and Boatswains Mate on Cutters, Patrol Boats, and LORAN Long Range Aids Navigation Station, San Salvador and others. His sea duty took him from the Cuban Straits, North Atlantic, and South Pacific. He retired as a Chief Boatswains Mate receiving numerous medals and awards during his military career.
After retirement from military service, he returned to his childhood home in Avon to work as a commercial fisherman, and in his free time he attended heavy equipment school at Wilson Community College.
Cecil is survived by a brother, Dennis Earl Williams of Buxton and numerous nieces and nephews. He was preceded in death by his father and mother, a brother, James Edwin Williams, sisters, Ruth Williams Gray and Clara Ann Williams, and longtime companion, Ina Faye Reid.
A funeral service with military honors will be held at 1:00 pm on Tuesday, June 21, 2022, at the Clara Ann Williams Cemetery (40401 North End Road, Avon, NC) with Pastor Gina Miller officiating. A reception will follow at St. John United Methodist Church. Casual dress is encouraged.
Death is not the end, nor does it destroy bonds that you forge in your life.
In lieu of flowers, donations may be made to St. John United Methodist Church, PO Box 129, Avon, NC 27915.
Twiford Funeral Homes, Outer Banks is assisting the family with arrangements. Condolences and memories may be shared at www.TwifordFH.com.