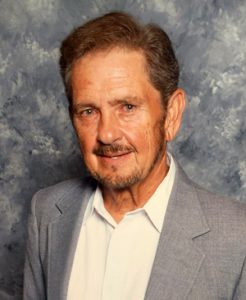 September 7, 1939 – February 4, 2023
MANTEO — Charles Ronnie Stewart, Sr., 83, passed away on February 4, 2023. Ronnie was born in Spartanburg, SC but relocated to Durham, NC, at the age of two. He was raised following the teachings of the Primitive Baptist Church due to his mother, father, and grandparents' influence. Besides his parents and grandparents, Ronnie was preceded in death by his two grandchildren, Craig Stewart Jr. and Cortez Stewart.
Left to cherish Ronnie's life are his loving wife, Alice of the Manteo home; four children, Donna Rose (Phil), Charles Stewart, Jr. (Nancy), Brian Stewart (Charlene), and Steve Stewart; 11 grandchildren, eight great-grandchildren as well as many other extended family members and close friends.
Ronnie was known by his family and friends as an avid fisherman, which was influenced by his grandfather at a young age. He passed his fishing knowledge to his sons and grandsons and kept detailed journals giving his grandparents the honor of how they influenced his life.
In high school, Ronnie excelled in sports. He played first-string football for four years, and at that time, players were required to play both offense and defense each game. He threw the shotput in which he placed 2nd in the county. He also boxed with the golden gloves with a final record of 6 wins and two losses. Health problems stopped his athletic career, but he took classes in high school, which allowed him to succeed later in life. Ronnie passed on all his sports knowledge later in his life as he coached little league.
Ronnie joined the Navy for six years and was honorably discharged with the rank of Petty Officer Third Class, First Platoon Leader.
He had a natural talent as an automobile technician, and after many certifications and accreditations, he acquired the top certification in Automotive Service Excellence. After working for many years, he started his own business with his partner, Haynes-Stewart Automotive. His business drew many customers, new and from the former dealership. Haynes-Stewart had the reputation of being honest with excellent mechanical work.
Ronnie's business was forced to close due to a recession. At this time, he moved to Manteo, which only enhanced his love for fishing. He obtained employment with two dealerships until his retirement. Once retired, Ronnie created a small landscape business with many satisfied and loyal clients. He continued the business until he was forced to close due to illness.  Ronnie also had a talent in art and was proud of his Mennonite signs, including the Montessori School Sign.
Ronnie was known for his honesty and integrity. He will be forever remembered as a caring, kind, helpful, and loving son, husband, and father.
A celebration of Ronnie's life will be held 1 pm, Thursday, February 9, 2023, at the Gallop Funeral Chapel in Nags Head. In lieu of flowers, donations in his name may be made to help endangered animals to the World Wildlife Fund (https://www.worldwildlife.org/). Please share condolences with the family at www.gallopfuneralservices.com. Gallop Funeral Services, Inc. was entrusted with arrangements.