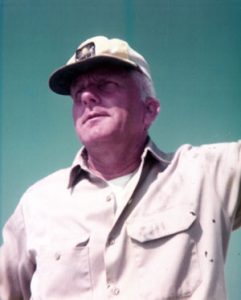 May 18, 1928 – November 5, 2021
WANCHESE — On Friday, November 5, 2021, this 93-year-old fisherman set sail for his final destination – his heavenly home. There he is reunited with his loved ones and especially with the One who sailed with him through all the rough waters of the last 65 years – his Lord and Savior, Jesus Christ.
A native of Wanchese, Charles Schree Daniels was born May 18, 1928, to the late Ann Deborah Daniels and Charles Bailey Daniels, Jr.
In addition to his parents, Charles was preceded in death by his wife, Molly Forbes Daniels; children, Debi D. Gibbs and her husband Keith; and a grandson, Blain Gibbs.
Charles is survived by his children, Ruby D. Meekins (Andy), Trece A. Daniels, and Steve C. Daniels; grandchildren, Stevi Midgett, Daisie Alexander, Drew Meekins (Abigail), Matthew Meekins (Selah), Bailey Daniels (Elizabeth), Leonard "Boo" Daniels (Kait), and Molly Gibbs; and great-grandchildren, Bella, Easton, Brennyn, Colten, Layla, Elbie, Zoe, Charles Bailey, and Warner.
A funeral service will be held at 2:00 pm on Tuesday, November 9, 2021, at Wanchese Assembly of God with Pastor Kenny Midgett officiating. Private burial will take place in Cudworth Cemetery. The family will receive friends and family one hour prior to the service.
In lieu of flowers, memorial donations may be made to The Gideons International (PO Box 140800, Nashville, TN 37214-0800 or online at https://www.gideons.org/donate).
Twiford Funeral Homes, Outer Banks is assisting the family with arrangements. Condolences and memories may be shared at www.TwifordFH.com.