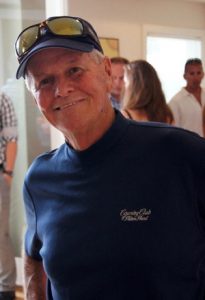 December 24, 1938 – July 23, 2022
KILL DEVIL HILLS — Charlie Jones, Sr, 83, of Kill Devil Hills, NC passed away Saturday, July 23, 2022, at home surrounded by family. He is survived by his wife of 65 years, Marion Everton Jones. They loved to travel, and Charlie loved to be outdoors; golfing, running, hiking, swimming, biking, and kayaking especially after retiring to Kill Devil Hills at age 70 after 54 years in construction in Virginia.
He was born on December 24, 1938, in Beulaville, NC to the late Billy Pigford Jones and Florence Thigpen Jones and was sadly predeceased by his only son, Charlie Jones, Jr.
In addition to his wife, Charlie is survived by siblings, Billy, Kenny, Sherwood, Lucille, Ronald, Linda, Doug and their families. He leaves behind to carry on his fierce family pride three daughters, Darlene Barnette, Mary McCarron (Bud), April Morgan (Kenny); and daughter-in-law, Sue Jones; nine grandchildren, David Sharp (Lauren), Amber Locklear, AJ Jones, Kasey Hughes (Jesse), Ryan McCarron (Katie), Zach Jones, Abbey Whibley (Matt), Konner Morgan (Shawna), and Kellie Phillips (Jaime); six great-grandchildren, Jon Locklear, Britney Locklear, Ava Sharp, Emma Sharp, Walker McCarron, and Nora Morgan; and many nieces and nephews.
Charlie never met a stranger and formed close bonds with friends and neighbors. He was very active in his church where you can join the family for a Celebration of Life on Monday, August 8, 2022, at 2:00 pm at the Outer Banks Presbyterian Church, 907 S. Croatan Hwy, Kill Devil Hills, 27948, 8.5 milepost on the bypass.
To plant a tree in memory of Charlie or send flowers to the family, please visit www.TwifordFH.com/send-flowers.
Twiford Funeral Homes, Outer Banks is assisting the family with arrangements. Condolences and memories may be shared at www.TwifordFH.com.