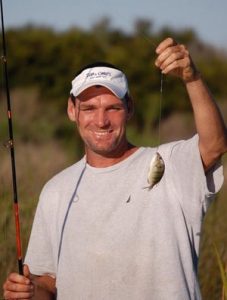 April 9, 1974 – December 16, 2019
MANTEO — Chuck Williams, 45, of Manteo, NC passed away unexpectedly on Monday, December 16, 2019.
He was born in Cincinnati, Ohio on April 9, 1974, to Gloria Cassidy Holley (Don Forget) and Charles Williams. He married Genevieve Noyes on February 12, 1999. He is the proud father to Coleman Ellis Williams and Andrew Clubb. Chuck loved his family with such an amazing passion.
He prided himself on his work, viewing it as art. He was a siding mechanic for 25 years and then switched gears and went into the boat building trade.
Chuck was born into a large, close family. Along with his mother, he is survived by his sisters Regina Senn (Michael), Tina Anderson (Brian), Shawntrell Holley, Kristol Holley, Chrissie Naylor, Sarah Croswait (Aaron) and brothers Bryan Holley (Kimberlee) and Bryan Naylor. He has a large loving group of cousins, aunts, uncles, nieces, nephews, in-laws and friends who he loved deeply.
He loved fishing, traveling to new places, and going on adventures with his wife. Everything was an adventure to Chuck. His zest for life was infectious and he will be missed and loved every day.
There will be a gathering at a yet to be decided time at Chuck's favorite fishing spot.
Twiford Funeral Homes, Outer Banks is assisting the family with arrangements. Condolences and memories can be shared at www.TwifordFH.com.