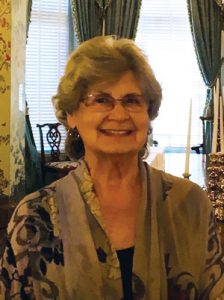 SOUTHERN SHORES — Clair R. Sutton, 76, passed away peacefully in her Southern Shores home on July 20, 2019. Clair was born in Hickory, NC to the late Clara and Carroll Reese. She is survived by her children, Shannon Sutton of Kitty Hawk, and Shawn R. Sutton of Dallas, Texas.
Clair graduated from UNC-G in 1965. After living in Chapel Hill and designing neighborhoods for Fitch Lumber Company, she moved to the Outer Banks in 1978. Her first project was Station Number Six, which was remodeled into an oceanfront bed and breakfast. In 1982, Clair was named the head designer at Beach Realty. She stayed until 1985 when she then opened her own business, Sandcastle Design Group. Over the years, Clair received eight grand awards and two honor awards from the NC Homebuilders Association for Excellence in Environmental Design.
Clair was passionate about helping others. She was a visionary in her charity work and other endeavors. Clair received the Governor's Award for Outstanding Volunteer Service in 1996, after establishing and chairing the first Dare County Relay for Life. She also established and chaired the first Duck Village Art show. She sat on committees in various capacities for Hospice, Master Gardeners, Dare County Arts Council, American Cancer Society, Hotline, and numerous other festivals.
Clair loved gardening, art, and her kids- two legged and four. She bred and raised Grand Champion Borzois in her last years. Clair was a very special woman who found beauty in the every day.
The family requests any donations in her name be made to UNC Lineberger Cancer Center.
There will be a celebration of her life at a later date.
Condolences to the family may be expressed via the online register at www.gallopfuneralservices.com. Gallop funeral services was entrusted with arrangements.