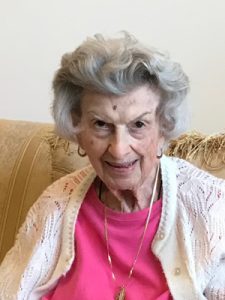 KILL DEVIL HILLS —  Connie Kelleher, of Spring Arbor Assisted Living, died peacefully September 15, 2021. She was born January 13, 1923, in the Bronx, New York. She was the youngest of six daughters born to Cornelius and Dolores Roche. Connie married James R. Kelleher, Jr., on December 2, 1944, and raised their two children in New Hyde Park, NY.
Connie is survived by one sister, Dorothy Harris, of Florida; her children, and their spouses- James and Anne Kelleher of Southern Shores, and Margaret and Michael Grace of Whitehouse Station, N.J.; and four grandchildren – Brian and Michael Kelleher, Kelly Grace Westbay and Colleen Grace.
Connie worked as a secretary for Montgomery Ward in NYC, before devoting herself full time as a homemaker and community volunteer. She was also an active parishioner at the Church of Norte Dame in New Hyde Park. In later years Connie enjoyed spending time with her grandchildren and playing golf with friends.
A private Mass will be celebrated in her memory at Holy Redeemer by the Sea Catholic Church. Expressions of sympathy are welcome via the online register at www.gallopfuneralservices.com.