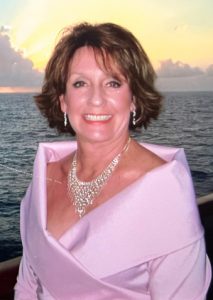 June 2, 1947 – May 18, 2022
SOUTHERN SHORES — Daliane Brown Fulgham, 74, widow of John Presley Fulgham, Jr, died peacefully on Wednesday, May 18, 2022, with her daughters by her side. She is survived by two daughters, Erin Fulgham Moore and her husband, Kyle T. Moore, of Kitty Hawk, NC and Christine Aiken Fulgham of Southern Shores, NC; a sister, Dr. Cheryl Lee Brown Davis and brother-in-law, Bill Davis; three brothers, Eugene (Gene) W. Alley, Jr and sister-in-law Laurie Alley, Jerry G. Alley and sister-in-law Deb Alley, and G. Scott Alley; two grandchildren, Brody Townsend Moore and Miss Presley James Moore. She is also survived by numerous nieces and nephews.
Mrs. Fulgham was born in Richmond, VA, graduated from Huguenot High School and had a prosperous career in Real Estate/Property Management.  She retired to the Outer Banks in 2000.  She was a longtime member of Duck Woods Country Club and was very active playing golf, enjoying LUSH with her girlfriends as well as serving on the Board of Directors, most recently in the roll as President. She was also a member of the Women's Association of Duck Woods Country Club (WADWCC) for 20 years and served on the Board Communications/Publicity Chair.  Additionally, she served on the Board of Elizabeth R. & Company for many years.
In lieu of a memorial service, there will be a Celebration of Life held at Duck Woods Country Club, June 2, 2022
To plant a tree in memory of Daliane or send flowers to the family, please visit www.TwifordFH.com/send-flowers.
Twiford Funeral Homes, Outer Banks is assisting the family with arrangements. Condolences and memories may be shared at www.TwifordFH.com.