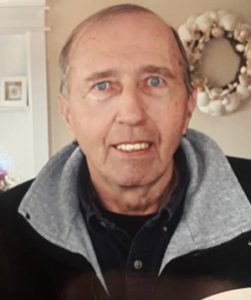 October 23, 1947 – March 15, 2023
HATTERAS — David James Kelmer passed on March 16, 2023, at his home in Hatteras surrounded by his immediate family, he was 75.
Born, October 23, 1947, and raised in Peapack, NJ he met his wife Karen and was married in 1968. After serving 4 years in the USMC, he and Karen moved back to NJ to raise their family. In the mid-1980s they decided to move south to Cape Hatteras where Dave had been vacationing, with his parents, since the 1950s.
After several years doing construction, he decided to follow his true passion and started Island Tree Care. Becoming known as the 'tree guy' on the island was something he always cherished. The health and well-being of the Maritime Forest on Hatteras Island was near and dear to his heart.
He was heavily involved in giving back to the community through his volunteer work. He started and coached the CHHS soccer program, served as the Hatteras Village Fire Chief, and spent some time as the Hatteras Civic Association president. He also assisted for many years with the community fish fry. He was very instrumental in building the Our Lady of the Seas Catholic Church and an active member of the United Methodist Men.
He leaves behind his devoted wife of 55 years, Karen, his three sons Ken (Heather), David (Jeanne) and Jon (Kristian) and his seven grandchildren Natalie, Paige, Daniel, Amanda, Grayson, Xander, and Zoey. He was preceded in death by siblings Paul and Susan and leaves behind Steve (Melodie), Pam, and Irene (Paul).
In lieu of flowers, please consider donating to or volunteering your time with any of the organizations in which Dave participated.
A memorial service will be held at 10 a.m. on Monday, March 27, 2023, at Our Lady of the Seas Catholic Church with a reception to follow.
Twiford Funeral Homes, Outer Banks is assisting the family with arrangements. Condolences and memories may be shared at www.TwifordFH.com.