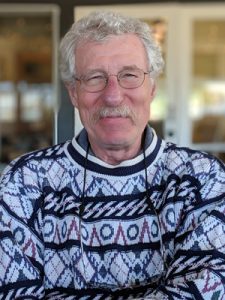 August 27, 1944 – February 3, 2021
NAGS HEAD — David John Feild passed away suddenly of natural causes at home on Wednesday, February 3, 2021. Dave was born in Detroit, Michigan on August 27, 1944 to John and Marilyn Feild. He was the oldest of three children. The family moved to Chevy Chase, Maryland in 1959 when his father took a job working for Senator Phil Hart of Michigan.
Dave was a devoted husband, loving father, and dedicated friend. He has a son, Adam, by his first marriage to Barbara Feild. Dave cherished Adam and was in awe of what an intelligent and caring person he turned out to be. Dave and Cathie met in 1987 and married in 1988, celebrating 32 years of marriage in October of 2020. Dave was an animal lover and his dog, Ollie, was by his side when he died. He was a caretaker by nature and cared for his father and mother during their later years. Dave also was a great help to Cathie in caring for her father until his death in August of 2020, and helping to care for Cathie's mother up until the day before he died.
Dave's career began in the advertising department of Sears Roebuck. He then attended the University of Maryland where he studied crafts to pursue his dream of becoming a potter. Dave was a professional potter during the 70s, creating beautiful, functional pieces that grace the homes of many people to this day. In his 30s, Dave started working as a copy editor at the American College of Cardiology (ACC) in Bethesda, Maryland. Over the years, he rose through the ranks to become the Executive Vice President of the ACC. During this time, Dave and Cathie had the opportunity to travel to many places in the U.S. and Western Europe, including Berlin, Amsterdam, Geneva, Stockholm, London, and various cities in Italy and France.
In 2000, he and Cathie moved to Raleigh, NC where Dave took a job as the CEO of an association management firm, First Point Management Resources. During his career, Dave mentored many young professionals. He was known as a kind, supportive supervisor and many sought his counsel. Dave retired at age 69. The couple remained in Raleigh while Cathie continued to work until moving to Nags Head, NC in 2016.
After moving to Nags Head, Dave and Cathie joined the Unitarian Universalist Congregation of the Outer Banks, where they met many new friends and Dave served as Treasurer. Their home in Nags Head was just around the corner from their dear friends of over 30 years, David and Maryann Maryott. One of Dave and Cathie's favorite things to do was to enjoy a meal out with David and Maryann. The four of them ate at many restaurants over the years and spent nearly every New Year's Eve together for 30 years. Dave continued making pottery as a hobby, taking classes at the Manteo campus of the College of the Albemarle. Politics played a big role in the Feild family and became a lifelong interest of Dave's. He was an avid consumer of news and commentary, reading The New Yorker and The Economist weekly. He also enjoyed all types of music from classical to bluegrass.
Dave is survived by his wife Cathie Callens Feild, his son, Adam Feild (Erik Torkells) of Santa Barbara, CA, his sister Tracey Feild (Rick Wiebush) of Catonsville, MD, his brother Thom Feild of Washington, DC, his niece Jeanette Holdbrook (Tom) of Woodbury, NJ, and many friends and members of Cathie's family who will miss him forever.
A celebration of Dave's life will be held at the Unitarian Universalist Congregation of the Outer Banks at some time in the future. In lieu of flowers, donations in memory of Dave may be made to Dare Minority Coalition, 110 Scarborough Street, Manteo, NC, 27954 or www.dareminoritycoalition.com.
Twiford Funeral Homes, Outer Banks is assisting the family with arrangements. Condolences and memories may be shared at www.TwifordFH.com.