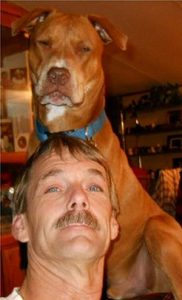 December 15, 1958 – October 17, 2022
OUTER BANKS — David Thomas Kopacz died unexpectedly at home on October 17, 2022.  He was born on December 15, 1958 to William and Phyllis Kopacz.  David was raised in Walpole, NH and graduated from Fall Mountain Regional High School in 1976.  He worked at Hubbard Farms and was a machinist at Hicks Machine for many years alongside his dad.  In 1978 he married Lisa Augustinowicz.  They had four children together.
Following in his father's footsteps, David was a proud volunteer firefighter within the Walpole Fire Department, serving as lieutenant and captain.  He loved playing softball and was a fierce but good-natured competitor.
After his marriage ended, he moved south and in 2003 and met his best friend and soul mate Christina.  They settled in the Outer Banks of North Carolina and married on August 21, 2014.  David worked at Home Depot in Kitty Hawk, NC and made many friends there.  He retired in 2020 but remained close with many of his co-workers.
David was pre-deceased by his parents.  He is survived by his loving wife, Chris; his children, Heather of Alstead, NH, Daniel (Natasha) of Terre Haute, IN, Corey of Aydlette, NC and Brandi (Chris) of Terre Haute, IN; his stepdaughters, Stacey Shifflett (Jimmy) of Currituck, NC, and Stephanie Ward (Jake) of Hertford, NC; his adoring grandchildren, Kaylee, Jacob, Grayson, Trinity, Sophia, Tatum, Faith, James, Morris and Edward.
He also leaves his sisters, Doreen Pouliot (Serge) of Hinsdale, NH, and Denise Momaney (Jim) of Langdon, NH; his nephews, Scott Pouliot, Eric Pouliot, Ryan Pouliot and Nicholas Roentsch, who was also his Godson.
David touched many in his life and truly loved his friends.  If you were a friend of David, you were family.
There will be no services.  David was an animal lover and would be proud to have donations made to your local humane society or SPCA in the name of his beloved best buddy, Woody.
Twiford Funeral Homes, 405 East Church Street, Elizabeth City, NC 27909 is serving the Kopacz family.  Condolences and memories may be shared at www.TwifordFH.com.