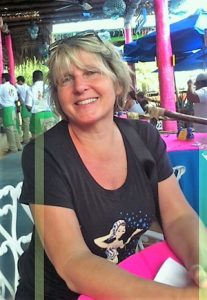 September 30, 1955 – August 11, 2020
KITTY HAWK – Deborah Pelley Meadows, 64, of Kitty Hawk, NC passed away Tuesday, August 11, 2020, at her home.
Born in Mariemont, OH on September 30, 1955, she was the daughter of the late Marie Ellen and Maynard Nelson Eberly.
Every morning, Deborah began her day with a walk on the beach. She will be remembered for her love of the beach and for traveling. For over 30 years, she owned and operated Confetti Clothing.
Deborah is survived by her husband, Rodger Lewis Meadows; son, Matthew Pelley; grandson, Buddy Pelley; and siblings, Pamela Morse and Marshal Eberly. She adored her dogs, Beck, Callie, and Cheyanne.
The family will celebrate her life privately at a later date.
An advocate for organ donation, donations may be made in Deborah's memory to Carolina Donor Services, 909 E. Arlington Blvd, Greenville, NC 27858 or online at https://www.carolinadonorservices.org/contribute.
Twiford Funeral Homes, Outer Banks is assisting the family with arrangements. Condolences and memories may be shared at www.TwifordFH.com.