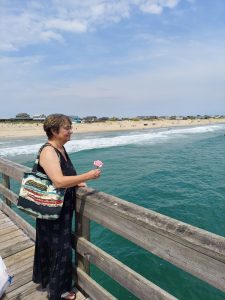 MANTEO — Debra Willman of Manteo, NC passed away on September 19, 2023, at the age of 66. She was born on March 3, 1957, in Fresno, CA, to her loving parents Lyla and Otto Willman, Jr.
Debra's journey in the medical field began after her graduation from Fresno State University. With her steadfast determination and brilliant mind, she excelled in her career, eventually taking on leadership roles as a lab technician in various hospitals and private medical labs. Her commitment to providing quality care to those in need left an indelible impact on the countless lives she touched.
A faithful parishioner of Holy Trinity by the Sea Catholic Chapel, Debra found solace and strength in her religious beliefs. Her unwavering faith guided her throughout her life, offering her comfort and support during both joyous and challenging times.
Debra's heart was filled with love for those closest to her. She leaves behind her loving friend, Sharon Carignan. Debra found great joy in the company of her feline companions, Demi and Cali, and all of her forest critters.
Debra was preceded in death by her daughter, Kristen M. Marcotte, her grandson, Kobe M. Marcotte, and her brother, Richard Scott Willman. She joins her beloved parents in eternal rest.
A graveside funeral service to honor Debra's life will be held at 11:30 am on Tuesday, September 26, 2023, in Manteo Cemetery, with Rev. John Hanley, osfs officiating.
In remembrance of Debra, donations may be made to the Outer Banks SPCA at https://www.obxspca.org/. This gesture will not only honor her memory but also help support a cause that was dear to her heart.
Debra's kindness, dedication, and unwavering spirit will be deeply missed by all who had the privilege of knowing her. May she find eternal peace in the embrace of her loved ones who have gone before her.
Twiford Funeral Homes, Outer Banks is assisting the family with arrangements. Condolences and memories may be shared at www.TwifordFH.com.