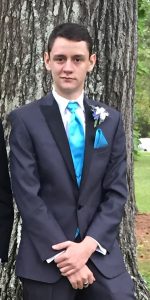 January 19, 1996 – September 1, 2021
MANTEO — Dylan Shawn Hughes, 25, of Manteo, NC passed peacefully Tuesday, September 1, 2021, at The Outer Banks Hospital.
Born in Chesapeake, VA on January 19, 1996, he was the son of Shawn Hughes of Manteo, NC and Renee and JW Hodges of Creswell, NC. In addition to his parents, Dylan is survived by his fiancée Talia Leeper; two brothers, Shane Brinn and wife Paige of Kill Devil Hills, NC and Clarence Brinn and fiancée Amber Owens of Currituck, NC; maternal grandparents, Lillie Hussey and Ron Lackey of Rutherford, NC; paternal grandparents, Larry and Ann Hughes and Cheryl Paschal and Palmer Lewis of Burlington, NC; and several beloved aunts, uncles, and cousins.
He was preceded in death by a brother, Jeffrey Turner Brinn.
Dylan was a 2015 graduate of Manteo High School where he was active in theatre through Stage Left Productions. He continued his pursuit of theatre at Roanoke Island Festival Park as a historical interpreter. He loved gaming and D&D with friends who describe Dylan as fiercely loyal and supportive.
A memorial service will be held at 1:00 pm on Tuesday, September 7, 2021, at Twiford Colony Chapel, Manteo, NC.
To plant a tree in memory of Dylan or send flowers to the family, please visit www.TwifordFH.com/send-flowers.
Twiford Funeral Homes, Outer Banks is assisting the family with arrangements. Condolences and memories may be shared at www.TwifordFH.com.