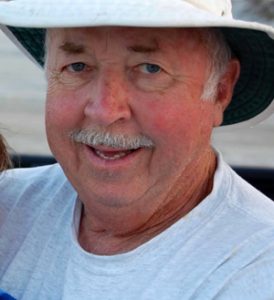 May 27, 1941 – January 23, 2022
KILL DEVIL HILLS — George William Kendall, 80, sailed to his next adventure on January 23, at home, in the company of his sons, as was his wish. In addition to his sons David [Cathleen] and Kevin [Carolyn] and his grandchildren, Drew, Kyle, Lindsey, Brian, and Lydia, George leaves behind, a community of friends, acquaintances, shipmates, workmates, and untold others who have experienced his generosity and benefitted from his willingness to share his vast knowledge and experience on so many subjects.
Born on a remote island several miles off another remote island in Maritime Canada, George was raised in a unique environment of self-sufficiency and appreciation for the little things. A lifelong foe of technology, George, ironically, never encountered a button that he didn't want to push or an electronic device that he did not leave beeping and flashing in his wake. His austere upbringing also made him a problem solver with a desire to fix things rather than replace them. Items that broke were often repaired or modified, resulting in an accumulation of spare parts and strange contraptions whose purpose even he forgot, but would not dispose of in case they might eventually be of use to somebody.
George was mercifully self-employed for the entirety of his adult life. He started several successful businesses, beginning at age nine selling flower and vegetable seeds to his Newfoundland neighbors. Subsequent enterprises included founding the largest bicycle retail operation on Long Island, a retail furniture business, real estate, and furniture repair.
More significant to his friends, though, was his constant cheerful disposition and his availability to be of assistance to anyone and everyone. Vast life experience gave him the tools to provide guidance on any number of subjects, but helping inexperienced boaters and sailors was his special passion. In spite of his self-described ability to "swim like a brick" George had a sailing resume that included several offshore voyages including a Bermuda round trip and a cupboard full of racing trophies with his beloved Colington Yacht Club. He served in various roles with CYC including Commodore and the club recognized him with a lifetime achievement award and a summer solstice race named in his honor. He also designed and built several boats, all painted alarming colors in what he portrayed as a "Newfie" tradition.
Ten years after receiving a six-month prognosis, and over 100 trips to Duke Cancer Center for
groundbreaking treatment, George succumbed to his illness. Thoughtful, gentlemanly, and tough-as-nails, he left us all with so much more than he took, the undisputed evidence of a life well lived.
A Celebration of Life service will be held at Colington United Methodist Church at 10 a.m., Saturday, June 4, 2022.
The family requests tax deductible donations to the Duke Cancer Institute Office of Development in lieu of flowers. You may donate online, by phone (919-385-3120) or mail to 300 W. Morgan Street, Suite 1200, Durham, NC 27701. Or consider supporting the Colington Yacht Club Youth Sailing Program in his honor (YouthProgram@colingtonyachtclub.com).
Twiford Funeral Homes, Outer Banks is assisting the family with arrangements. Condolences and memories may be shared at www.TwifordFH.com.