F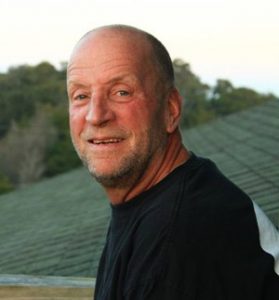 RISCO — Gordon Thompson, 71, of Frisco, North Carolina, died on September 13, 2022, at Sentara Norfolk General Hospital of complications following successful surgery for cancer. He was born on May 26, 1951, in Glen Ridge, New Jersey, to Elliott A. Thompson and Eleanor Bromley Thompson. A graduate of New England College, he lived and worked in New Hampshire in the construction and property management field for many years before relocating to the Outer Banks of North Carolina, where he could pursue his love of water sports. He settled on Hatteras Island and built a house with his lifelong partner, Katherine White, while continuing his career in building maintenance.
He loved ice hockey and extreme weather events, from the winter storms atop Mount Washington to the high winds and constantly changing conditions on the Outer Banks. He was an avid windsurfer and kiteboarder who looked forward to his time on the water. Nothing was more important to him than his family, particularly his two grandsons.
In addition to his partner, Katherine, he is survived by a daughter, Amy Halsted, of Freeport, Maine; her husband, Mark, and sons Cooper and Teague; and her mother, Dori Thompson of Yarmouth, Maine. He is also survived by three sisters and a brother—Sherrie Neilson of Groton, CT; Sue Ellen Thompson of Oxford, MD; Cindy Thompson of Afton, VA; and Thomas Thompson, of Winthrop, Maine—as well as several nieces and nephews. He was predeceased by his youngest daughter, Laura Thompson, in 2020. Contributions in his honor can be made to the Mount Washington Observatory, P.O. Box 2310, North Conway, NH 03860. Plans for a memorial service will be announced at a later date.