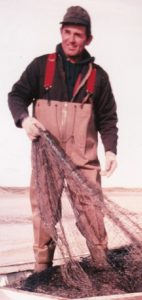 AVON — Harry Miller Gray, 90, of Avon passed peacefully in Nags Head with family by his side on October 11, 2022. He is survived by his wife of 68 years, Barbara; his son-in-law, Thomas Watkins; grandson, Shane Watkins, and his wife Kate; and his granddaughter, Shawna Beavers, and her husband Evan. He also leaves a great-grandson, Will Mitchell, and a great-granddaughter, Kilia Beavers. Harry was preceded in death by his beloved daughter, Tanya.
Harry was born and raised in the village of Kinnakeet. He was the son of Osborne Gibb Gray and Annie Williams Gray. He was the brother of Osborne Gray Jr. and Vivian Gray.  Harry served aboard the Coast Guard Cutter Mistletoe until honorably discharged. With his partners Sumner Scarborough and Charlie Gray, Harry helped usher in the heyday of commercial fishing in Avon by bringing the first long net rig to the village. It took months to make the net, but when they began fishing with it they brought in larger catches than the local fish house could handle.  They found Billy Barcliff of Quality Seafood in Elizabeth City, NC, and convinced him to make the investment necessary to handle their loads. Shortly thereafter, to accommodate those loads; they built their own fish house which remained a mainstay of the Avon harbor for decades.
Harry was a mentor to many younger fishermen and was respected by his peers as a good man with a wrench and a true waterman. He was a prankster who loved a good joke and a good fib. He loved NASCAR and his animals, especially his cat, Buddy Earl. He was adored by his daughter, Tanya, and dearly loved by his wife, Barbara.
The funeral will be held at St. John Methodist Church of Avon at 3 pm Friday, October 14, 2022. The committal and interment will follow immediately after the funeral service at Scarborough Cemetery. Reverend Gina Miller will be the officiant. Gallop Funeral Services Inc. was entrusted with arrangements. Please share a comforting thought with the family at www.gallopfuneralservices.com.