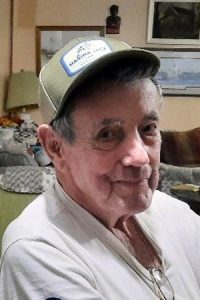 Jack Bruce Webster passed away on Tuesday, May 17, 2022.  He was born in Linden, Tennessee in 1936. Jack was preceded in death by his parents, Matha and Claude Webster; his wife, Cidney; a daughter, Jackie Sue; and son, Terry Webster. He was also preceded in death by a sister, Clara Edwards, and 2 brothers, Claude and Raymond. Jack was in the US Navy from 1954 to 1971. After an honorable discharge, he moved to Hatteras Island.
He had his chief engineer license. He also had a CDL License until he was 81 years old. He worked for Hays Tug & Launch out of Marcus Hook, PA. He also drove fish trucks for several companies on Hatteras and Ocracoke. Jack loved to travel. He loved camping, woodworking, and spending time with his grandkids and great-grandkids.
Jack is survived by his children, Bruce and Billy; several step-children, Michael, Faith, Leona, Ramona, Donna, Brian, Glen, Alyson, Brenda, and Angela; sisters, Lottie, Alice, Peggy; and a brother, Larry.
A Celebration of Life will be held at 2 pm, Wednesday, June 1st at Little Grove United Methodist Church in Frisco.