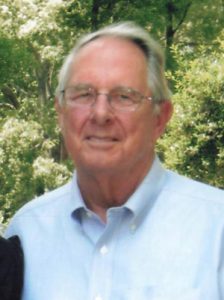 December 23, 1931 – October 21, 2022
SOUTHERN SHORES — Jim Heinrich of Southern Shores, NC died on October 21, 2022 at 90 years of age. Jim was the son of Kenneth C. Heinrich and Ada L. Cook Heinrich of Brockport, NY, on December 23, 1931. Jim grew up on Park Ave. and at Onteo Beach on the shores of Lake Ontario. During his high school years, he worked on the Hugo Klaffein farm and at Rogers' greenhouse propagating geraniums.
He attended Bucknell University, Lewisburg, PA, where he met his wife, Ginny Nicely of Williamsport, PA. He earned his Bachelor of Science in Commerce and Finance and was a member of the Phi Gamma Delta Fraternity. He worked his way to an early graduation at the A&P, The Hotel Lewisburger as a waiter, and at Campbell's Mill.
Returning to Brockport Jim was a sales partner in his family's stationary goods and office furniture business, Heinrich Seibold, in Rochester, NY. He was an active volunteer fire fighter of the Silsby Hose Company, member of the Brockport Kiwanis Club, and member of the Brockport Yacht Club.
He relocated his family to Washington, D.C. to become the sales manager at Commercial Office Furniture. He later became a manufacturer's representative, creating James Heinrich Associates with his wife, Ginny, and handling major office furniture lines within a territory of seven southeastern states.
Upon retiring from forty years in the office furniture industry, Jim earned his NC real estate and brokers licenses. He was a buyers' agent for twenty-seven years on the northern Outer Banks, working for Sun Realty, Shoreline, Bob DeGabrielle and Associates, and Brindley Beach Realty. Jim was a member of the North Banks Rotary Club of Kitty Hawk.
Jim was a member of Duck Church and a former member of St. Andrew's by the Sea while residing on the outer banks. He was previously a member of All Souls Church in Asheville, NC, and St. Luke's and Brockport Methodist in Brockport, NY.
Jim helped to start St. David's Episcopal in Rockville, MD, The Church of our Saviour in Johns Island, SC, and Church of the Good Shepherd in Nags Head. Jim served as a Eucharistic Lay Minister, a Stephen's Minister, attended and taught Bible study and classes, and was a member of the Brotherhood of St. Andrew and the Outer Banks' Men's Fellowship.
Over the years, Jim enjoyed many hobbies and pastimes. He was a golfer, an avid gardener and woodworker. He loved to surf fish and enjoy time with family at their Rondette on E. Altoona St. at Ocean Colony South in South Nags Head or on numerous family vacations and trips.
He was a devoted family man who is survived by his wife of seventy years, Ginny, of the home; son, Bill Heinrich, and daughter, Kathy Heinrich, of Nags Head; daughter, Janet Grant (Fred T. Grant) of Greenville, SC; grandchildren Brian Grant (Lucretia) of Franklin, TN and Laura V. Grant of Seattle, WA; and great-grandchildren Harper Indy and Finley James Grant. Jim was pre-deceased by his sister, Ruth Anne Heinrich Beaney.
The family will hold a private service graveside at a later date.
In lieu of flowers, donations may be made to the charity of your choice in his honor.
Twiford Funeral Homes, Outer Banks is assisting the family with arrangements. Condolences and memories may be shared at www.TwifordFH.com.