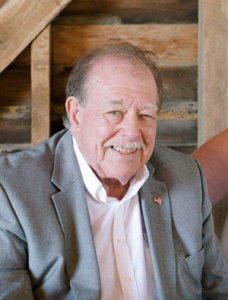 On Saturday, December 17, 2022, James N. Clark, beloved husband, passed away suddenly at the age of seventy-nine. He lived in the Outer Banks since 1981 and was very much involved in the GOP, a 9/member of the board of elections, and a member of the ABC board.  His gentle smile, that sparkle in his eyes, and his love for family & friends will be greatly missed.
Jim is survived by his loving wife, Sandra Clark; his mother, Susan Clark; his daughter, Evelyn Clark; granddaughter, Natasha Raia; grandson, Nickolas Lopez; and great-granddaughter, Olivia Raia. He is also survived by a niece, Monique Doutre; 3 great-nephews, 3 stepsons, numerous grandchildren, and great-grandchildren. He was preceded in death by his father, James N. Clark Sr., and his sister, Claudia Stoneman.
Please join us in celebrating his life Thursday, December 29, 2022, at noon at Jolly Rogers restaurant, 1836 N. Virginia Dare Tr, Kill Devil Hills, NC.  He was a very simple man and did not have any favorite charities so please refrain from flowers or donations.
Please share condolences and loving remembrances at gallopfuneralservices.com. Gallop Funeral Services, Inc. was entrusted with arrangements.