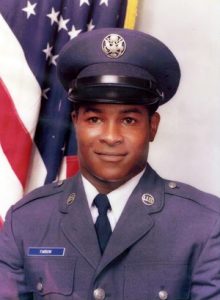 MANTEO — James Vernon "Jamie" Farrow born December 20, 1961 in Manteo, NC to the late Joseph "Vernie" Farrow and Bessie Mae Austin Farrow, departed this life October 16, 2022 in Nags Head, NC. James was also predeceased by his grandparents, Clarence and Lillian Austin and his sister, Tanaya "Tay" Farrow with who he shared a special bond.
James was a 1981 graduate of Manteo High school. While there he played the saxophone in the marching band and was a member of the football team.  Immediately following high school on July 17, 1981, James enlisted in the United States Air Force (USAF). He served in the USAF as an Information Management Technician until his honorable discharge December 31, 1992.
After his military career, James was employed with Southern Ice and later began another career with the State of North Carolina Department of Transportation. James enjoyed life and loved to laugh. His energy was the life of every party and family gathering.
He leaves to cherish his memory, his mother, Bessie Mae Farrow of Manteo, NC; his four children, Tyrone Allison (Haylee) of Norwich, England, Ashley Farrow of Lowestoft, England, Quentin Perryman of Manteo, NC and Jamie Storm Farrow of Wilson, NC; three grandchildren, Oscar, Harvey, and Hadley all of Lowestoft, England; two sisters, Rhonda Carver (Calvin) and Necy Morris (Ivan) all of Manteo; one uncle, Eugene "Buddy" Austin, also of Manteo; three aunts, Charleen Mathews (Lawrence) of Capron, VA; Sally Simmons (Eddie), and Ethel Bowser; and one great-aunt Pensecola McClease all of Manteo. In addition, he leaves six nieces, Jaquanda Farrow, Jacindo Farrow, Sekeya Carver, Tyaunah Farrow, Jakayla Farrow, and Mia Morris all of Manteo; two great-nieces, Micera Billups, and Liryc Rawls; a great-nephew, Cameron Morris, and a host of cousins and friends.
Funeral and burial plans with military honors are still pending at this time. Share sympathies with the family and check for details at https://gallopfuneralservices.com. Gallop Funeral Services Inc. was ent