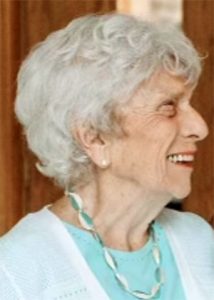 March 18, 1933 – June 30, 2022
Jean was affectionately known as "Jeanie" by her family and friends. She was born on March 18, 1933, in Ahoskie, NC to John Deans Gatling and Louise Ruffin Gatling. After being raised in Franklin, VA she attended James Madison University, graduating in 1953, before pursuing further graduate degrees from the University of Virginia, Temple University, and the University of Pennsylvania.
Jean was predeceased by her parents; her brother, John; her first love and husband, Everett L. Farr, Jr.; and later husbands R.C. Councill, Jr. and H. Leigh Pace, Jr.
Throughout her distinguished 35-year career as an educator, she held numerous roles as a teacher, a principal, a headmistress, a state supervisor, and a college professor. Her abiding interest was in serving intellectually gifted students. She assisted school districts throughout Pennsylvania and the nation with the establishment and maintenance of special programs.
During the Reagan Administration, she was invited to serve on an advisory committee of leading educators across the United States, developing national guidelines for the education of gifted and talented children. She was extremely proud to serve. She wrote numerous articles, texts, pamphlets, and co-developed state guidelines for program development. Her services were often requested as a consultant and speaker nationwide.
Jean lived for 42 years with her husband, Everett L. Farr, Jr., in Charlottesville and Capron, Virginia, and Bucks County, Pennsylvania. Following his death, Jean relocated to their Outer Banks cottage, which was her favorite place in the world.
Jeanie felt lucky to have led a full life surrounded by her family and friends. She was the quintessential mother and grandmother who enjoyed sharing her passion for literature, art, and politics. She was a fantastic storyteller who loved to recant the many travels and memories throughout her life. Anyone who visited her home in the Outer Banks quickly learned of her love for birds and the history of the Outer Banks while enjoying a cold drink on her front porch.
Jean is survived by her three children: Carolyn Sly (JJ), Sallie Jarosz (Jeff), and Everett Farr (Darlene), eight grandchildren, and five great-grandchildren. Only private family services will occur per her wishes. Any remembrances may be sent to Kill Devil Hills Library located at 400 Mustian St, Kill Devil Hills, NC 27948, or Feeding America (feedingamerica.org).