September 6, 1940 – October 30, 2019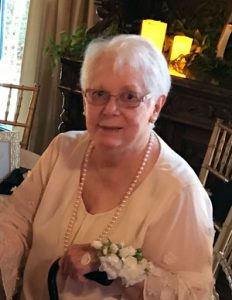 MANTEO — Jerri Ann Smith Hopkins passed away on Wednesday, October 30, 2019, while sitting amidst the flowers in her garden at her cherished historic home, Cricketwood in Manteo, NC.  Jerri was born to parents Waymon and Noble Smith and had one sister, Jane (previously deceased).  She graduated from Morehead High School in Eden, NC.  For her entire adult life, she was the beloved and devoted military spouse of Rufus Hopkins, they were married for 60 years.
Jerri was the proud, loving mother of their children, Beth & her husband Randy Massie, and Glen & his wife Katherine Hopkins. She is also survived by her caring, attentive grandchildren, Thomas & wife Michelle Massie, Mark Massie, Mallory & husband Madison Ballance, Aaron Hopkins, and Mack Hopkins.
Jerri loved her family, gardening, art, antique collecting, decorating, dogs, birds, nature, and the beach.  She was the successful business owner of Plantiques in Newport News, VA and later My Secret Garden in Manteo. She was an active, valued member of Mount Olivet United Methodist Church and Roanoke Island Garden Club.  Jerri was a kind, giving person who always had time to listen and affection for the people in her community. Her generosity of time, talent, warmth, and charming sense of humor will be missed by many.
The family invites you to join them for a visitation at Twiford Funeral Home on Friday, November 1, 2019, 6:30–8:00 PM, and for the Memorial Service on Saturday, November 2, 2019, at 11:00 AM at Mount Olivet United Methodist Church in Manteo.
In lieu of flowers, the family requests that donations be made to any of the following which Jerri fully supported: Mount Olivet United Methodist Church, The Outer Banks Cancer Support Group, or St. Jude's Children's Hospital.
Twiford Funeral Home, Manteo is assisting the family with arrangements. Condolences and memories can be shared at www.TwifordFH.com.