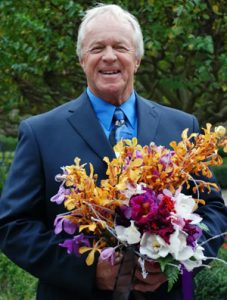 September 9, 1945 – May 24, 2022
OCRACOKE — John Ivey Wells, 76, of Ocracoke died at home May 24, 2022, after a long fight with cancer.
Born September 9, 1945, on Howard Street to the late Ed and LuDicie Wells, John was delivered by Elsie Garrish, said his son Jason Wells in an interview.
After graduating from Ocracoke School and a brief stint at N.C. Wesleyan College, John started his career in the food service industry, including Johns Hopkins Hospital in Baltimore before moving back to Ocracoke and helping to open numerous restaurants on Ocracoke, including the original Howard's Pub, Captain Bens, the Pelican, the Back Porch and Jason's.
John met Debbie Wells in 1978 and have been best friends, or more, since that day. Together they opened the original Pelican restaurant, which is now DAJIO.
Debbie had trained under a French chef in Atlanta, Jason said, and The Pelican was the first place on the island to have wine glasses and linens on the tables
"It was also the first place to have soup or salad as an option as opposed to, back in those days, it was French fries, coleslaw, three-bean salad, applesauce. It was the first upscale dining experience."
In the early 1980s, the building that is the Back Porch became available. So, they left the Pelican and opened the Back Porch and ran that successfully until they sold it to current owners Daphne and Howard Bennink.
"I grew up in that kitchen," Jason said.
After that, John helped Jason open Jason's Restaurant in October of 2000 and was Jason's business partner for about a year and a half before selling his half the business to Jimmy Bowen.
An avid fisherman, John's other favorite things to do was "go out in the garden, socialize at Ocracoke Coffee Company, go out on the boat, eat lemon ice cream," Jason said.
There will be no burial as John has requested his ashes be spread in the Pamlico Sound in one of his favorite fishing holes.
A celebration of John's life will be from 1 to 3 p.m. Sunday, June 12, at the Berkley Barn. Well-wishers, if they want, may bring flowers and food to that event for a potluck dinner.
In addition to Jason and Debbie, John is survived by a stepdaughter Eve Ferris, a granddaughter, Mila Ortiz, and a grandson, Griffin Wells, all of Ocracoke.
Twiford Funeral Homes, Outer Banks is assisting the family with arrangements. Condolences and memories may be shared at www.TwifordFH.com.