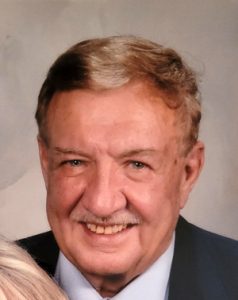 John Knox McEwen, Jr. born in Jeffersonville, IN, on September 14th, 1943, peacefully passed away on January 9th, 2023, in Kill Devil Hills, NC. He was 79 at the time of his passing. He is survived by his loving wife of 56 years DiAnne McEwen, his two son's John McEwen III and Trent McEwen, his two sisters Catherine Kerr and Patti McEwen as well as his grandson Daniel Evans McEwen.
Growing up in Clarksville, IN, along the Ohio River he was an avid boater from an early age. After graduating high school from Clarksville High School, he enlisted into the Marine Corps at the age of 18 followed by an enlistment into the Air Force where he was stationed throughout Europe. After his honorable discharge he enrolled at Indiana University in Bloomington, IN, where he graduated with a Bachelor of Science degree in Political Science.
Pursuing a career in business and sales management he became the District Sales Manager for Maramont / WorldParts then decided to move to New Orleans, LA, where he opened his own franchise, Picks Auto Parts owning multiple locations across the state. Wanting to raise his two sons in Fredericksburg, VA, he sold his franchise and became the Vice President of Sales for Vera Imported Parts Corp. based out of Newark, NJ. This led him to another position of Executive Vice President of Sales for ITM, Automotive, Inc. an international automotive parts distribution company based out of Los Angeles, CA.
After many years of traveling across the country he left his corporate position and opened his own business in Fredericksburg, VA, Axles Inc. Running his own successful axle wholesale distribution company for 4 years he sold Axels Inc. and became a financial adviser with AIG. This position led him to his semi-retirement as a financial advisor where he and his wife DiAnne moved to New Bern, NC. Before his full retirement, he also worked stints as the Eastern North Carolina Regional Manager for the US Census in 2000 and 2010.
He enjoyed deer and turkey hunting in the Appalachian Mountains and hunting and fishing on family land in Wakefield, Virginia, as well as elk hunting in Montana. He also passed on his love of the outdoors to his sons by participating with them in the Boy Scouts and taking them on hiking, camping, and canoeing trips every year.
Owning numerous boats throughout his life he enjoyed Lake Pontchartrain, the Chesapeake Bay and especially taking his boat to Virginia Beach during reunions so the family could swim out from the beach and take rides with him. Every summer he would take his family on extensive vacations that included Europe, Hawaii, the Caribbean, and Belize as well as winter vacations skiing in Summit County, Colorado.
With family being very important he enjoyed Christmas's back home with his mother, aunt, sisters, and their extended families in Clarksville, IN, as well as Thanksgivings with family in Wintergreen, VA, and 4th of July Virginia Beach McEwen Clan annual family reunions.
His business career led him to many states across the country including Annapolis, MD, New Orleans, LA, Fredericksburg, VA, Newark, NJ, and Manhattan Beach, CA. He and his wife retired in New Bern, NC, eventually moving to Kill Devil Hills, NC, to be closer to their grandson, Daniel. The Outer Banks of North Carolina held a special place in his heart, as he spent many summers as a child on family vacations with his parents & siblings.
His memorial service will be held at Jennette's Pier in Nags Head, NC, on the outer banks at 1 p.m. Saturday, March 18th, 2023. Please share condolences with the family at www.gallopfuneralservices.com. Gallop Funeral Services, Inc. was entrusted with arrangements.